Pusher Tug resides at the London Canal Museum
The Bantam class of tug was produced in the late 1940s and the 1950s and 1960s by E.C. Jones and Sons of Brentford. Bantams were built at Brentside Wharf, Brentford which is on the River Brent at the start of the Grand Union Canal. In 1994 London Canal Museum was given number 4 of the class which is preserved as a floating exhibit, normally moored outside the museum, but sometimes taken to canal events during the summer season.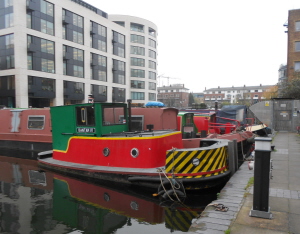 The Bantam tugs are unusual in that they are designed to push, not to tow. This is a more energy efficient way of moving an unpowered barge. The tugs were used most frequently for canal maintenance and in gravel pits and other non tidal waterway situations.
The Bantam IV tug was completed in 1950 by E.C. Jones, and spent much of its working life in gravel pits before being bought and restored for use as a working tug on the Kennet and Avon Canal. The distinctive livery dates from this period. In 2000 the Canal Museum Trust undertook an overhaul and repaint of the tug including a spell in the dry dock at St. Pancras.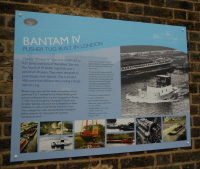 To read more about the Bantam (including the panel depicted)and see more detailed photos vist the London Canal Museum website or visit on site a short walk from King's Cross beside Battlebridge Basin, on the Regent's Canal at New Wharf Road, N1 9RT
Information provided by the London Canal Museum and photos from Janet MacNamara
May 23, 2012