On the occasion of Queen Victoria's marriage in 1841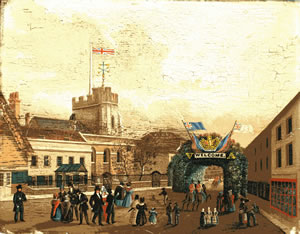 This picture is of the High Street in New Brentford at the time of Queen Victoria's wedding day that was reported last week. It is in the Local Studies Collection at Chiswick Library but is not currently on display. A full size image can be seen here

At that time the township of New Brentford stretched north from the High Street between the Half Acre/Boston Road and the river Brent. Its parish church was St Lawrence's with its recognisable tower but with an earlier vicarage next door.
The resident at the vicarage in 1840 was the Rev Stoddart who wrote extra words for the national anthem and worked hard on behalf of his parishioners. A year after the events illustrated he was collecting money to help local people and businesses whose houses and livelihoods had been damaged by a flood of water down that rushed down the canal. Queen Victoria is recorded as contributing £21 to the fund.

The welcoming arches were erected outside the Pigeons Inn, previously called the Three Pigeons or the Doves that was at the west side of the Market Place and the Castle Inn near the coffee bars and bus stop on the north side of the High Street.

In the report the local children were given dinner at the National School. This building is still there in use as a nursery school (on The Ham).

Colonel Clitherow was the owner of the Manor of Boston.
Janet McNamara

If you have any historical images of Brentford to share, please email them to editor@brentfordtw8.com so they can be added to the photo album. Ownership and copyright will be credited where applicable.

February 25, 2010