Signing of contract suggests further slippage in ground's opening date unlikely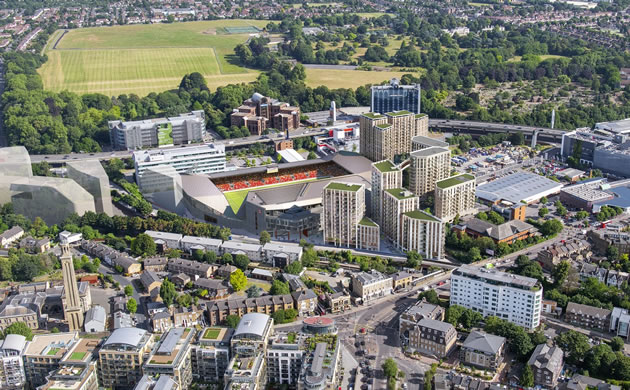 CGI image of new stadium and development. Picture: Brentford FC
Brentford Football club have confirmed that they have signed a deal with London Irish for the rugby club to play at their new stadium when it opens in 2020.
Brentford FC will retain primary use of the ground which means it will never be obliged to rearrange fixtures to accommodate their tenants and the rugby club will have to move games if football is due to be played on the same date.
As a result of the deal London Irish are expected to move from the Madjeski Stadium in Reading to play at Lionel Road from the start of the 2020/21 season. The first fixtures of the rugby season normally take place in August.
A source close to the club said this confirms that they are confident that there will be no further delays in the completion of the stadium. Originally it was hoped that the ground would open in 2019 but the opening date was postponed earlier this year. Tottenham Hotspur, who are also constructing a new stadium have been hit be several delays in their project.
Brentford FC say that key milestones in the construction of the 17,250-seater stadium and associated development have been achieved with significant parts of the steel frame and terracing in place. The steel frame for the south stand, the largest, is almost complete and work on the interior elements is progressing. Construction of the steel frame and terracing is now also underway for both the east stand and west stand. Work on the north stand is also expected to start in the next few weeks.
The Brentford Community Stadium development is a part of the wider regeneration of the area known as Brentford East. It will deliver a stadium together with more than 900 flats, a new purpose-built location for Brentford FC Community Sports Trust, and a public square with shops and cafes.
London Irish currently play in rugby's second tier but are hopeful of promotion to the top division at the end of this season. The structure of the game is being changed to guarantee club's in the top flight their status which means if London Irish can achieve this they would be aiming to get crowds of around 14,000 for the more important home games.
Cliff Crown, Brentford FC Chairman, said, "We are building a high-quality stadium fully equipped and ready from day one for the rigours and demands of both Premier League football and Premiership rugby. Like us, London Irish has a long history in the area and prides itself on having strong roots in the local community. We look forward to continuing to work with them over the coming months to support their successful return to the capital. "
London Irish Owner Mick Crossan said, "We're delighted to be moving to the new Brentford Community Stadium with Brentford FC. It has been a long-held ambition to return to our roots in West London, and this stadium has everything we need – location, capacity and facilities – to re-establish ourselves as London's authentic top-flight rugby club. We can't wait to start playing there!"
Councillor Steve Curran, Leader of Hounslow Council, said, "This is great news for the borough, we now not only have an excellent football club in Brentford, we will also now have a fantastic rugby club in the borough too – both with top tier ambitions. Both clubs also have the local community at their heart and provide excellent community services for local residents, particularly encouraging young people to take part in sport. I am sure their involvement in the borough will go from strength to strength when the new stadium is open in 2020. I would like to wish both Brentford and London Irish every success for the future."

December 18, 2018