Detailed design for the Duffy site shows 100 more units in the development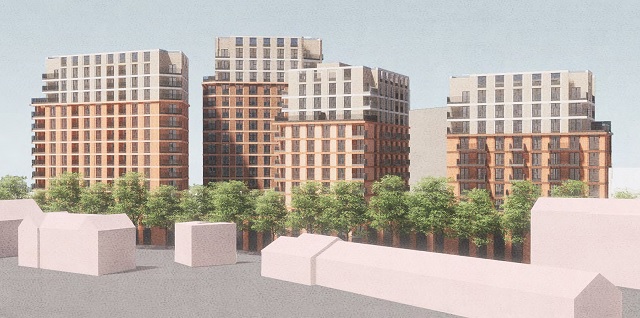 View from the south looking north
Participate
To see planning documents online visit Planning, accept the terms and conditions and use the reference numbers below:
P/2019/0285 covers height and number of homes
P/2019/0286 covers appearance, layout and landscape
The main application is P/2019/0285
Sign up for our weekly Brentford newsletter

Comment on this story on the
The development around the new Brentford FC stadium will reach over 1,000 flats if a new planning application is given the go ahead.
The detailed designs for the Duffy site, the final residential phase of the Brentford Community Stadium project at Lionel Road South, have now been submitted and these show over 100 more units than the outline permission originally granted.
This detailed design proposes 275 homes across 4 blocks rather than the original 3 blocks for the Duffy site, making a new total of 1,015 units across the Lionel Road development. These will include 42 affordable homes, 25 for social rent and 17 for shared ownership. 95 one-bed, 144 two-bed and 36 three-bed homes will make up the total.
The plans have been submitted following a public exhibition held by EcoWorld London and Brentford FC.
June 2014 saw outline permission for 910 new homes as well as 160-bed hotel and 1,200 sqm retail/other floor space across the Lionel Road development.
There will be 54 residential car parking spaces (including 6 disabled), 10 residential motorcycle spaces, and 364 long stay cycle spaces (as well as 8 short stay spaces).
These blocks are 13, 15, 11 and 10 storeys high respectively. The original outline was for three blocks, with block C now split in two.
The development will be divided into three phases:
Phase I: Central Eastern has 231 and Central Southern has 256 units, mostly for rent, with 80 for sale.
Phase II: Capital Court will have 253 for sale.
Phase III: Duffy will have 233 homes for sale and 42 affordable homes.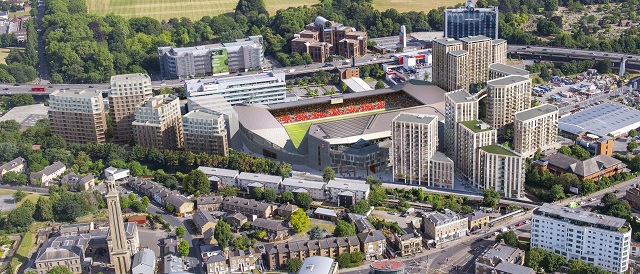 Lionel Road in full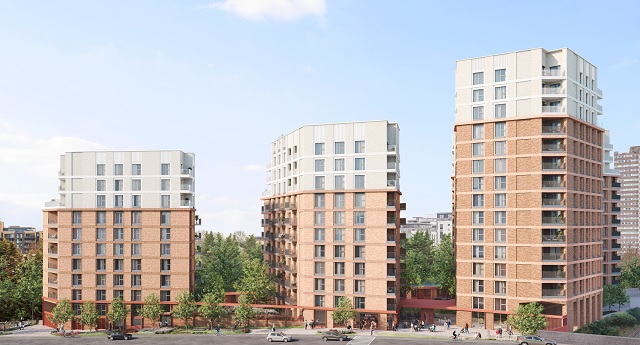 View looking west from Lionel Road South
740 units were already consented via Reserved Matters so the proposed 275 units on the Duffy site represents 105 additional units above the 910 originally agreed in the outline planning application making a new total of 1,015. 42 affordable homes is just over 4% of the total number of homes.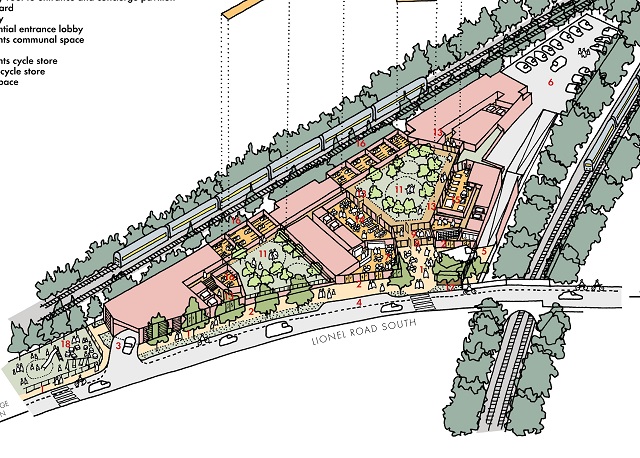 Landscaping plan for Duffy site (download full image)
As can be seen from the plan there will be a wide public footpath and two distinct courtyard gardens for residents. A small public playground is at the Kew Bridge end and a retail space by the main entrance.
February 1, 2019