Final residential phase of Lionel Road development for Brentford FC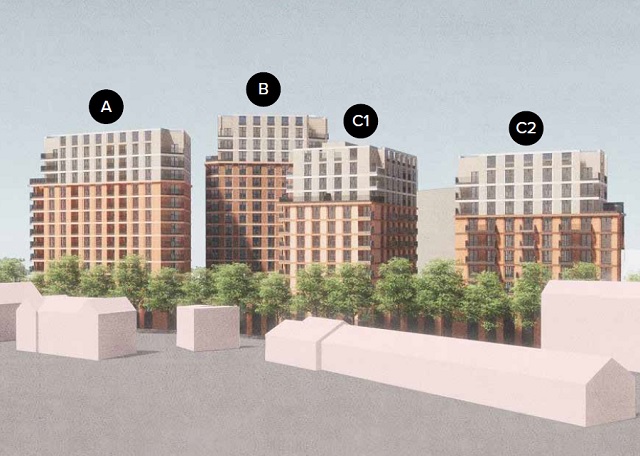 View from the south looking north
EcoWorld London and Brentford Football Club held a public exhibition on the proposed detailed designs for the Duffy site – the final residential phase of the Brentford Community Stadium
project at Lionel Road South.
June 2014 saw outline permission for 910 new homes. This detailed design proposes 273 homes across 4 blocks for the Duffy site.
September saw approval to changes for Capital Court replacing metal cladding with brick facades.
These blocks are 13, 15, 11 and 10 storeys high respectively. The original outline was for three blocks, with block C now split in two.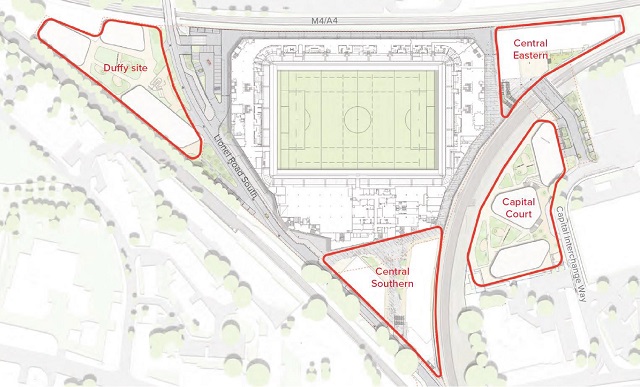 Current Masterplan
Phase I: Central Eastern has 231 and Central Southern has 256 units, mostly for rent, with 80 for sale.
Phase II: Capital Court will have 253 for sale.
Phase III: Duffy will have 231 homes for sale and 42 affordable homes.
740 units were already consented via Reserved Matters so the proposed 273 units on the Duffy site represents 103 additional units above the 910 originally agreed in the outline planning application making a new total of 1,013.
42 affordable homes is just over 4% of the total number of homes.
The developers of the stadium argued successfully against the provision for affordable housing in the outline consent due to the "significant cost of the enabling development of the Brentford Community Stadium". The S106 Agreement requires the viability of the site to be reviewed prior to the Reserved Matters submission of the Duffy phase.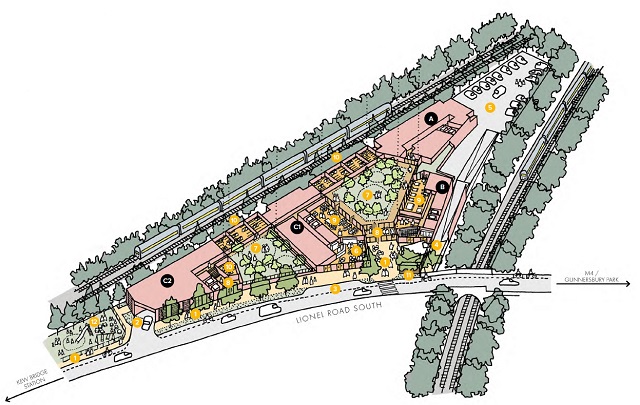 Landscaping plan for Duffy site
As can be seen from the plan there will be a wide public footpath and two distinct courtyard gardens for residents. A small public playground is at the Kew Bridge end and a retail space by the main entrance.
The original boards from the public exhibition are available via the dedicated website www.brentfordcommunitystadium.com. You can also send in comments via info@brentfordcommunitystadium.com
February 1, 2019