Changes necessary to make it acceptable to residents and businesses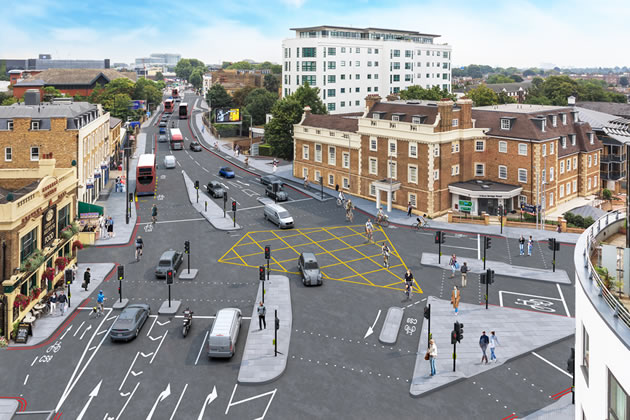 CGI of the proposals, looking north-east along South Circular Road from Kew Bridge Road
Hounslow Council have issued a statement saying that they believe revisions to the Cycle Superhighway 9 (CS9) proposal will be needed if it is to go ahead.
Transport for London (TfL) are currently preparing their report on the outcome of the consultation which received 5,000 responses. CS9 would be a segregated cycle pathway along the A315 between Kensington Olympia and Brentford.
The Council's statement says, "Although we await the final report, it is evident that some elements of the scheme will need to be revised for it to be acceptable to our residents and businesses."
They say there is widespread support for the project but many residents and businesses along the route, particularly in Chiswick where a significant amount of pavement space is set to be lost, have reservations.
The Council gave four examples of aspects of the scheme that they believe need further thought. They were:
• A review of options to reduce the impact on the southern footway of Chiswick High Road for pedestrians, particularly outside the Our Lady of Grace Church;
• Access arrangements for some side roads off Chiswick High Road;
• Loading provisions for businesses along the high road;
• Consideration to wider parking and traffic management measures if the scheme is implemented to deal with likely knock on impacts.

The Council are not going to reach a final position on the scheme until they have had a chance to analyse and interpret the responses received. A decision on the revised scheme will not be taken until the summer, when the newly elected administration will review the proposal and determine the council's position on it.
Cllr Curran, Leader of the council, said, "It's clear there is significant support for a high-quality facility for cyclists along this route, which will eventually link three of the borough's town centres and enable people to safely access the excellent retail and leisure services in a healthy and environmentally friendly way. However, we have listened to the concerns raised over recent weeks and believe changes can be made to mitigate the impact of the scheme on some road users whilst retaining the benefits for cyclists. We have fed our views back to TfL and the Council will be working with them to identify how changes to the design could improve the scheme for all users."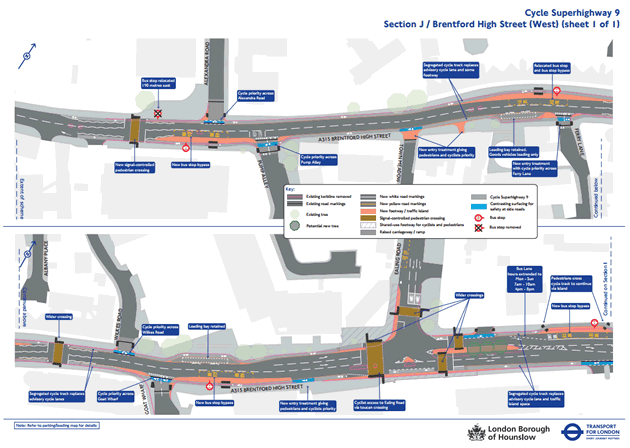 Click here for larger version of this map
January 11, 2018