Council has extended its plan to reduce speed in the borough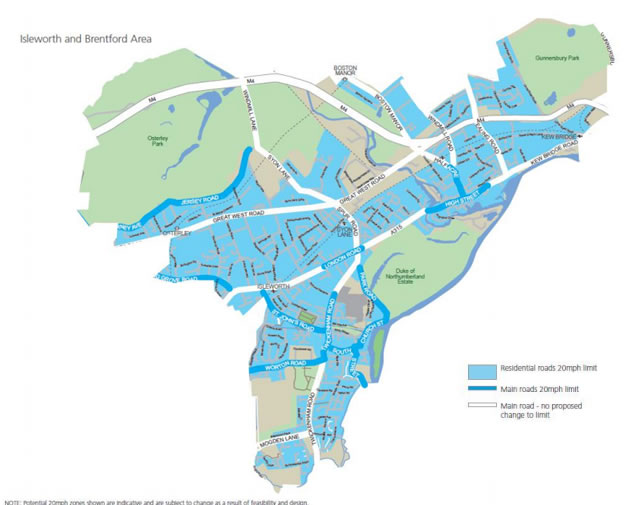 Brentford and Isleworth will become predominantly 20 mph zone under Hounslow Council's latest plan to make drivers take slower speeds in all borough roads, and not just those in school zones or town centres.
The extension is partly as a result of similar speed limits to be introduced by Ealing and Hammersmith & Fulham Councils and to ensure that there would not be a 'patchwork' of different speed limits, which the Councils said would be confusing for motorists.
Most of the roads in the Brentford and Isleworth area are to see a 20mph speed limit. The proposed exceptions include stretches of Kew Bridge Road, London Road, Syon Lane and Windmill Lane. The Great West Road (A4) and the M4 will be unaffected.
Cllr Amrit Mann, Deputy Leader and Cabinet Member for Environment, approved the new speed limit for Hounslow borough this week as a delegated decision. 20 mph limits around schools will be in place by the end of 2017 but the implementation to residential streets across the borough will take up to four years.
Hounslow Council says a recent consultation which drew over 600 respondents, showed "broad support" among residents for the scheme. About two-thirds of those who responded said they approved the 20 mph limit on residential roads which did not carry through traffic, and a similar percentage supported the limit on main roads.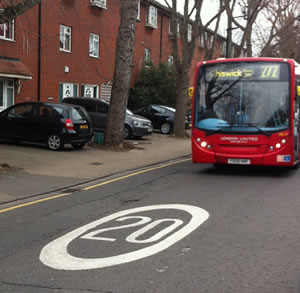 Brentford's Roads to Have 20 Mph Speed Limit
In the five year period from 2010-2014 the total number of casualties in Hounslow was 4,834. 1,243 of these casualties (26% of the borough total) occurred on those roads proposed to be 20mph.
"The evidence from other areas where 20mph schemes have been implemented suggests that a 1% reduction in average speeds is a reasonable expectation and that this would deliver 6% fewer casualties," according to a Hounslow Council report. Over a 5 year period Hounslow Council expect the impact of this measure to be 75 fewer casualties on the borough's roads.
The Council plans to use signage and road markings to enforce the police, and not more speed cameras or traffic calming measures. Revenue from speeding fines would not go to the council but to central government. Speeding is a road traffic offence punishable by fixed penalty fines and points on the offender's driving licences.
Some Chiswick councillors had expressed concern at a meeting last year that that the introduction of a 20 mph limit would be a "largely a cosmetic exercise" and could provide a false sense of security and safety.
"Those motorists that already break the current 30 mph limit will probably also break a new 20 mph speed limit. The only benefit will be that accidents involving law abiding and generally safer drivers will occur at low impact speeds", said one recently.
The move is part of a London-wide plan to curb urban speeds in residential areas. In June 2015, the Mayor of London, Boris Johnson, announced his target to halve the number of people killed or injured on London's roads by 2020.
Some 175 miles of residential streets, about a quarter of London's roads, already have 20mph limits. 20mph zones have already been imposed in residential areas in Camden, Islington and the City of London.
January 29, 2016