Government looking at smart motorway schemes to increase capacity on road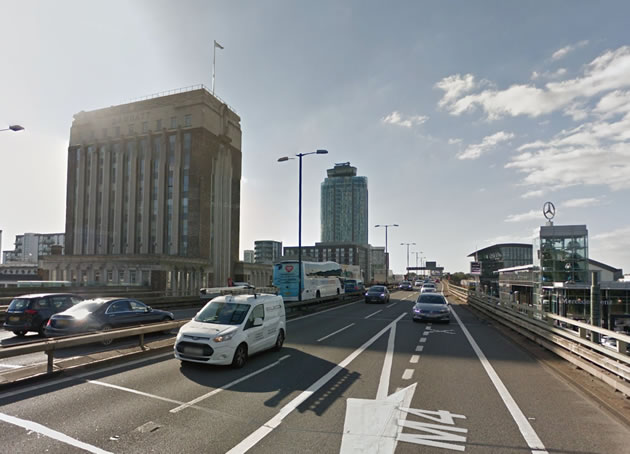 The M4 Flyover at Brentford . Picture: Google Street View
The Transport Minister Chris Grayling has said in the House of Commons that the Government currently has no plans to widen the M4 between Chiswick Roundabout and the exit to Heathrow.
Responding to a question on 2 February from Seema Malhotra who represents Feltham & Heston he said, "There is no plan to widen the M4, although there is a plan to create a smart motorway on the M4.
"There is no plan that I am aware of, or that I have discussed in any way, shape or form, to start buying houses in her constituency for a wider M4, and I have not seen a budget for that either, so she can take it from me that there is no plan to widen the M4."
There had been concern that a proposal to create a three lane motorway from junction 1 at Chiswick Roundabout to junction 3 were under consideration.
The issue had previously been raised by Ruth Cadbury MP for Brentford & Isleworth last November at which time the Transport Minister did not rule out the possibility of an M4 widening scheme despite the question being specifically about this scheme.
The project which would have cost over £2 billion was part of recommendations originally made by the Airports Commission and came to light last year with the publication of an assessment into the cost and viability by Highways England which was requested by the Department of Transport.
The report looked at estimated costs and delivery timescales to the Strategic Road Network (SRN) proposed for surface access to the airport. It includes changes to be made to the junction of the M25 which have been requested by Heathrow but the M4 widening was a proposal made by the Airports Commission and had not been requested by the owners of Heathrow.
The total project cost was in an indicative range or £1.32bn to £2.83bn with the tunnelled option being the most expensive option. One solution was for the elevated section to be retained westbound with the eastbound carriageway put underground.
Substantial land acquisition of residential and commercial properties would have been needed along the length of the motorway as well as a significant realignment of the existing slip roads and an upgrade of the drainage system along the entire length.
John Holland-Kaye, Heathrow Airports Chief Executive Officer told a parliamentary select committee in 2013 that he did not anticipate that a third runway would increase the number of vehicle journeys to the airport because they believed they could expand without increasing traffic due to the number of associated rail projects that would increase public transport access.
February 4, 2017