Local wards have seen sharp rise in offences involving violence, robbery and burglary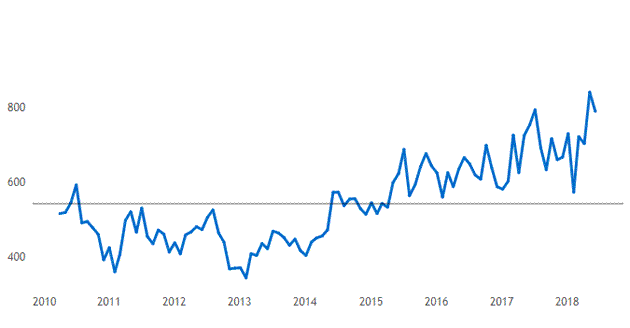 Rise in violence against the person in Hounslow Borough
The latest figures issued by the Metropolitan Police show a significant increase in certain types of crime in local wards including violence against the person and robbery.
All areas of Brentford and Isleworth have seen significant rises in these offences which have also risen across the whole of the borough of Hounslow.
In recent weeks the Mayor, the Met Commissioner and MPs have made a link between the rise in violent crime and demand for drugs created by middle class drug users.
In Brentford ward in the twelve months to June 2018 overall crime has only risen by 1.5% but there have been sharp rises in violent crime and robbery with the latter up by 47.4%. The pattern is similar in Syon ward which actually saw crime fall in the last year but with a significant spike in the number of robberies. Osterley and Spring Grove ward has seen the biggest rise in crime overall with a 15.9% increase which was boosted by a 23.8% increase in robbery and an 18.6% rise in violence against the person. Isleworth saw crime fall overall but robberies and burglaries are up by over 20%
Across London crime has risen by 4.6% in the year to June and in Hounslow this rise has been 5.7% There have been big rises in burglary (17%), robbery (28.8%) and violence against the person (9%) in the borough. Violent crime in Hounslow is at the highest level for around a decade. There was some success with a big fall in theft and handling offences which are down 37.9% On a borough-wide basis these are predominantly theft from shops although in Chiswick there tends to be a higher proportion of theft from motor vehicles. Only 115 of 2,364 burglaries were successfully detected and most of this type of crime solved was of theft from commercial premises rather than residential properties.
Many people in Brentford and Isleworth believe there is a correlation between rising levels of crime and falling police numbers combined with the closure of the local police station. However, senior police officers and politicians have recently blamed increased middle class drug use for fuelling other types of crime.
Change in Crime in the Year to June 2018 (%)
Area
All Crime
Violence Against the Person
Robbery
Burglary
Brentford

+1.5

+21.8

+47.4

-2.0

Syon

-0.8

+7.5

+20.0

+1.8

Osterley and Spring Grove

+15.9

+18.6

+23.8

+26.8

Isleworth

-3.5

+7.7

+50.0

+26.1
Source: Metropolitan Police
The latest crime survey shows that cocaine use is at a decade high and was up by 15% last year with an estimated 875,000 people using it last year. Local police officers have suggested they are aware of widespread use in the area.
The Metropolitan police commissioner Cressida Dick said, "There is this challenge that there are a whole group of middle-class – or whatever you want to call them – people who will sit round … happily think about global warming and fair trade, and environmental protection and all sorts of things, organic food, but think there is no harm in taking a bit of cocaine. Well, there is; there's misery throughout the supply chain."
The National Crime Agency have said that the surge in violent crime in London is in part down to the activity of drugs gangs and it is believed that other types of offences like burglary and robbery are often linked to the operations of drugs gangs. David Lammy, MP for Tottenham, has made a direct link between the booming middle class cocaine demand and drug related killings in London
The Mayor of London, Sadiq Khan, this week has also criticised people who take cocaine at 'middle class parties' in the belief it is a victimless crime.

August 10, 2018