Spent ammunition found in car park outside Brentford night club
A Brentford night club has had its licence revoked following an incident involving a firearm, which took place last month. Five rounds of ammunition were recovered from the car park outside the premises.
The licence revocation means the premises cannot be used as a nightclub but it has no impact on the café continuing during the day. Café Society is situated on West Cross Way next to Sky's offices, Subway and PC World.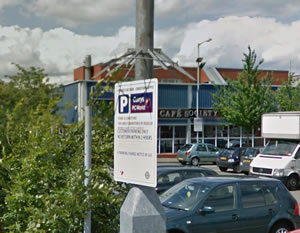 Police applied for a Summary Review of the Premises Licence and an emergency Licensing Panel was held at the Civic Centre on 14 October 2015 and the licence was suspended as an interim step before a full review.
The council's Licensing Panel passed the decision to suspend the licence as an interim step before a full review was heard on 11 November 2015.
During the day Café Society is a coffee shop and restaurant used by office workers and shoppers on an industrial estate. By night it becomes a private ticketed event nightclub which hosts basement parties.
Café Society's licence has been reviewed before - in March 2013 - when stricter licence conditions were enforced upon the premises.
The Licensing Panel was shown CCTV footage of the incident and recordings of two 999 calls. In one, the manager of the venue can be heard telling his doorman to put the phone down after he put in the 999 call to report the incident. The manager insisted at the licensing meeting that he did not know that his doorman was on the phone to the police at the time.
Both the owner and manager were present at Café Society when the firearms incident took place. Five rounds of spent ammunition were recovered from a car park used by Café Parkside customers on 11 October by the police and the council's Licensing Enforcement Officers.
Councillor Richard Foote, Cabinet Member for Community Protection, Hounslow Council, said: "Gun crime cannot be tolerated and when incidents of this kind occur we have to do everything within our powers put a stop to it."
The owner of Café Society now has 21 days to appeal the council's decision to the Magistrates Court.
The firearms incident is being investigated by the Met's Trident unit. The police had previously tried to get the club closed in 2012 alleging that it was patronised by members of local gangs.

November 17, 2015