Maurice Lennon was on a curfew at the time of the assault
A Hounslow teenage has been jailed for three years after a 'terrifying' attack on a woman in Isleworth last year.
Eighteen year old Maurice Lennon robbed a 50 year old woman on her way home from work when he was already subject to a youth rehabilitation order and curfew.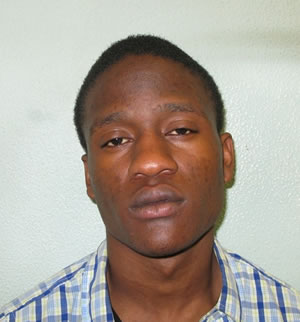 Maurice Lennon
On 19 March 2014, at 8.30pm the victim had just got off a bus outside West Thames College and was walking along Sidmouth Avenue, Isleworth, when she heard footsteps behind her.
As she turned around Lennon punched her in the head. He then grabbed her handbag which was over her shoulder and as she struggled to keep hold of it and the two shopping bags she was carrying, Lennon then punched her in the mouth and on her ear. Lennon eventually wrestled the bag from her and ran off.
The victim was taken to hospital and treated for injuries to her face and hand as well as dizziness. The following day a member of the public found the victim's handbag in an alleyway at the rear of Moreton Avenue, Isleworth. It was handed in to police and following a number of enquiries by Hounslow CID, Lennon was captured on numerous CCTV cameras in and around the area where the victim was robbed.
On 4 April 2014, Lennon was arrested at his home address. A number of items were seized by police including the clothes he was seen wearing on CCTV footage and his mobile phone.
At the time of the robbery Lennon was on a night-time curfew. Monitoring equipment showed that Lennon had breached his curfew by arriving home 11 minutes late.
When Lennon's phone was analysed officers found he had he had made a call to a local cab company requesting a taxi which was recorded. This call was made about four minutes after the robbery from Moreton Avenue where the handbag was later found.
Whilst talking on the phone to order a taxi Lennon is heard clearly out of breath. It was apparent to the investigating officers that he was trying to get away from the area as quickly as possible and return home before breaching his curfew.
Lennon was subsequently charged with robbery on 4 April and remanded to Uxbridge Magistrates' Court the following day. He finally pleaded guilty to robbery at Isleworth Crown Court on Monday, 9 February 2015.
DC Darren Young, from Hounslow CID said: "This was a terrifying ordeal for Lennon's victim. She was punched in the head three times just so he could steal her handbag. The ferocity of Lennon's attack could have left her with far more serious injuries.
"Fortunately, she has now recovered physically, but mentally this was frightening experience which left her with a bloodied face and dizziness. Lennon will now be off the streets of Hounslow and hopefully this conviction illustrates we will pursue criminals using all possible means available."

April 23, 2015