Brentford FC team up with medical charity to raise awareness of heart disease
Medical charity Heart Valve Voice will be offering free heart check-ups at Brentford FC's next home game.
They will be at the Championship League match against Burton Albion on Saturday 10 December. Fans will have the opportunity to get their heart health checked at Griffin Park before the 3pm kick-off. The check-up event is one of three taking place across the UK as part of the charity's National Football #TackleValveDisease campaign.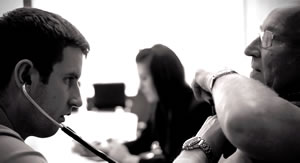 Local Labour MP Virendra Sharma is scheduled to attend the event, to show his support for the campaign.
Wil Woan, CEO of Heart Valve Voice said, "We aim to improve the diagnosis, treatment and management of heart valve disease by raising awareness of its severity and the need for timely detection, and sport provides a great platform to engage with and educate people. By tackling valve disease head on and taking action, we can really make a difference to people's lives. The more we listen, the more lives we save."
Heart valve disease is a common, but treatable, heart condition where the heart valves no longer work properly. When the valves are diseased it can rapidly affect the pumping action of blood around the body. However, many patients do not suffer severe or visible symptoms, or put their symptoms (breathlessness, fatigue and chest pains) down to the natural ageing process, making diagnosis difficult. Approximately 1.5 million people over the age of 65 are currently affected by the condition, and this figure is expected to rise to 3.3 million by 2056, representing a 122% increase.
Heart specialists will conduct check-ups by listening to people's hearts with a stethoscope. A simple stethoscope check can detect a characteristic heart 'murmur', which can be the first indication of a problem with the heart valves. If a murmur is detected a follow up echocardiogram test is usually recommended to confirm the diagnosis. It is important to diagnose early as, if severe aortic stenosis (a type of valve disease) is left untreated, half of those patients will die within two years of developing symptoms.
"Stethoscope examination is an effective way of detecting heart murmurs that may be associated with heart valve disease. By providing fans and their families with the opportunity to have their hearts listened to, we hope to raise awareness of the importance of a simple stethoscope check to highlight the possibility of heart valve disease; the more we listen the more we detect and therefore the more we potentially save lives," said Dr Yassir Javaid, GP Northampton and PULSE's past 'GP of the Year'. "I would encourage anyone concerned about symptoms of heart valve disease to get their heart checked out."
This initiative follows the launch of the charity's 2020 Vision Report, entitled 'Towards a Heart Healthy Future: a 2020 Vision for Heart Valve Disease' at a parliamentary event earlier this month. The report sets out recommendations to improve the diagnosis, treatment and care of heart valve disease.

Cliff Crown, Chairman of Brentford Football Club said, "We hope our fans and members of the local community will take the opportunity to come to the ground to have their hearts checked and learn more about the signs and symptoms of heart valve disease."
Awareness of heart valve disease is worryingly low. A recent survey of over 60s, conducted by the charity, revealed that 94% of people do not know what the most common form of the disease, aortic stenosis, is. In addition, almost three quarters of people say their doctor rarely or never checks their heart with a stethoscope, despite this being one of the first steps to detect heart valve disease.

Check-ups will be taking place outside the stadium from 1.30pm time on Saturday 10 December. If you would like to come along for an over 55s heart valve check-up at Brentford, contact info@heartvalvevoice.com to be booked in, or speak with one of our volunteers on the day.


December 7, 2016