University of West London gets behind The Bees for the new season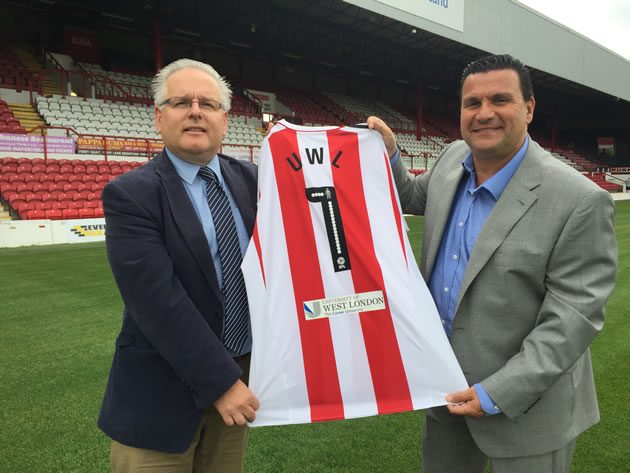 The long-standing relationship between University of West London (UWL) and Brentford Football Club has been enhanced with the signing of a new sponsorship deal. UWL will have an increased role this season as Back of Shirt and Shorts Sponsor.
The Club has been in partnership with the University, which has campuses in Ealing and Brentford, for the past five years. UWL have now signed a new one-year contract and will have its logo on the back of the Club's home and away shirts and shorts.
Mark Devlin, Brentford FC Chief Executive, said: "The University of West London has been a very positive partner of the Club for five years and we have enjoyed an excellent relationship. We are delighted that UWL has decided to increase their support of the Club and thank them. The University is growing at a rapid pace and we look forward to engaging with UWL and the students.
"We are keen to see as many of the students as possible becoming supporters of Brentford Football Club. There are also some exciting opportunities for the Club to be more involved in certain educational aspects and I know that both parties are very keen to develop this area further."
Professor Peter John, Vice Chancellor of the University of West London, said, "The University of West London is delighted to extend its partnership with Brentford FC. Over the last four years our collaboration has provided opportunities for our students; investment for the Club and above all ensured that we both support the community of Brentford. Over the coming season we will be seeking to develop new initiatives to make the facilities and expertise of the University increasingly accessible to the club and all our neighbours in Brentford."
Professor Anthony Woodman, Deputy Vice Chancellor at the University of West London said: "Through the University's back of shirt and shorts sponsorship this season, we are proud to be able to visibly show our support for the Club, whilst providing national coverage for the UWL brand. The University wishes Brentford FC the best of luck for the coming season and we are delighted that we will be with The Bees home and away."
888Sport, the sports betting site are the main shirt sponsors for this season.
August 12, 2016