Would have double the fans of Man United if people supported nearest team
Brentford would be the nation's fifth best supported club if fans always supported their nearest team.
An analysis of census data by statistician Philip Usher shows that the Championship side have a potential fanbase of 898,914 more than double that of Manchester United.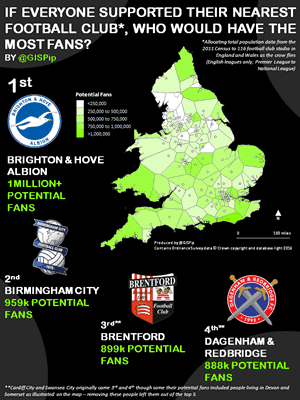 Brighton and Hove Albion would have the most fans and Brentford would be third amongst English clubs with Cardiff City and Swansea City pushing them down to fifth in the domestic leagues.
Mr Usher, who does demographic profiling for the Cheshire Fire Service, looked at the numbers from the 2011 Census for the top five divisions in the country from the Premiership to the Conference to analyse the potential fanbase for 116 clubs.
When Brentford FC asked their fans to return postcards in support of their new stadium project and associated development only one in ten came from the TW8 post code area with more than half from outside London.
| Team | League | Fanbase |
| --- | --- | --- |
| Brighton and Hove Albion | Champ | 1039634 |
| Birmingham City | Champ | 958598 |
| Cardiff City | Champ | 930341 |
| Swansea City | Premier | 906954 |
| Brentford | Champ | 898914 |
| Dagenham and Redbridge | L2 | 888176 |
| Gillingham | L1 | 876663 |
| Leicester City | Premier | 872724 |
| Plymouth Argyle | L2 | 870803 |
| Leeds United | Champ | 868734 |
March 1, 2016