Participate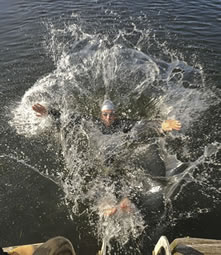 Warning. The public should not try this themselves. The Thames is incredibly dangerous and many people have drowned in its waters which have powerful tides and unpredictable currents.

Sign up for an email newsletter from:
It's the final day - and on Monday morning, David Walliams is in the Thames at Teddington at 7am with 15 miles to go past West London's riverbanks the grand finish at Westminster.
As he is now in tidal waters, David will be swimming to Richmond this morning, then taking a break until the tide turns.
He is expected to set off again at around 2.30pm from Kew Bridge, reaching Westminster at 6pm, with Hammersmith and Putney Bridges some time between 3pm and 4pm. We'll bring you more exact timings as we have them, and you can also follow David's progress minute by minute on Twitter at #thamesswim.
Sport Relief are urging Londoners to come out in their thousands to cheer David on today and also to boost his fund-raising total from an already astonishing £822,000 to a million pounds.
Commenting on the riverside support David said:
"The two things that have really kept me going so far are the updates of the fundraising totals I'm given and the stunning support I've been given by the public. There must have been tens of thousands of people along the route and I can hear their cheers as I'm swimming. I never expected this to catch the public's imagination like it has - there seems to have been a real carnival atmosphere around it which is lovely. Tomorrow (Monday) will see me entering the tidal stretch of the Thames with all the dangers that brings, so I'll need to be strong."
Here's what happened on Sunday:
Day seven - the penultimate day of The BT Sport Relief Challenge: Walliams vs The Thames. At 8pm David arrives at Teddington Lock to be greeted by his ever supportive wife Lara Stone.



Obviously tired but David appeared in good spirits when he broke his challenge for a rest at Chertsey Lock this afternoon, greeted by his proud mother Kathleen. He also took this opportunity for some physio before setting off for Teddington and a total of 21 miles today.

David is urging everyone to keep him afloat by sponsoring him now at www.sportrelief.com/swim. As well as making a donation, people can check out the GPS tracker online at www.sportrelief.com/walliams and follow the Twitter feed using #hash tag #Thamesswim to see where he'll be. He will set off tomorrow and hopes to be in Westminster between 6 and 7pm.
Looking back so far:
Day 6:



A pep talk from Miranda Hart
| | |
| --- | --- |
| | and then there was 'Saving Vinny' |

Day 5: David receiving treatment for his rash & physio

Day 4 - the pain is showing



Further images from the first few days of the challenge
BT is giving £40,000 a day to support David's swim as part of the £1million it has committed to raise in support of The BT Sport Relief challenges - a series of celebrity challenges sponsored by BT for Sport Relief 2012. BT is also asking people to join in and become part of David's swim by 'trunking' – posting pictures of themselves donning goggles and a swimming pose in a take on the latest internet craze 'planking'.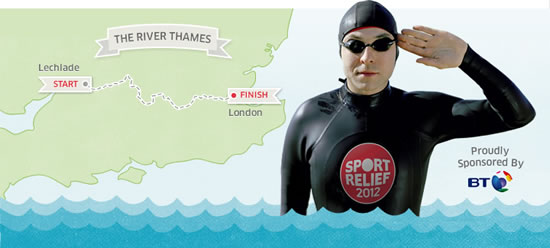 September 12, 2011