Connect Plus Services supporting group's community payback scheme
The efforts of a local community group to keep the area looking its best have been boosted by a donation of paint and painting materials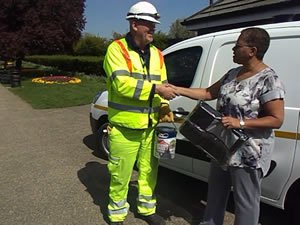 Connect Plus Services has donated paint and rollers to a community payback scheme facilitated by The Friends of Boston Manor this month (April).

Their relationship with the Friends started in 2010 when they supplied materials to enable a payback scheme to regularly paint out graffiti on the supporting piers of the M4 flyover in the Boston Manor Park area. That donation supported the scheme for four years.

The new donation, which includes 100 litres of paint and a dozen rollers and replacement heads, will enable the scheme to continue.
Brian Johns, Services Managing Director CPS said, "CPS operates and maintains the whole M25 and we therefore come into contact with a lot of communities. It is rewarding when we are able to support community-led initiatives and we are delighted to continue our support of Friends of Boston Manor through this donation."

Linda Massey, from The Friends of Boston Manor said: "The Friends have been active within Boston Manor Park for over 10 years and together with the grounds maintenance team have raised the standard of the park. Thanks to Connect Plus Service's generosity, we are continuing to maintain the park and its amenities for those that use it in our local community."

1st May 2015