Road closure causes significant local traffic problems
Kew Bridge was closed to traffic last night (Thursday 14th July) due to a collision.
Eye-witnesses report that a cyclist was knocked off their bike whilst crossing the bridge. There is no confirmation of this as yet from the police and no indication as to the seriousness of the injuries sustained by the victim.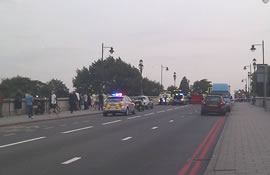 The incident occurred at around 7.50pm and led to major traffic problems in the area.
The bridge has now reopened.
July 15, 2011