Flat on Kew Bridge Road changes hands for over 2 million
A new record has been set for the highest price paid for a Brentford property with the sale of a flat on Kew Bridge Road for £2 million.
This beat the previous best for a home in the TW8 post code area which was a house in the Butts which sold for £1,299,635 back in 2007.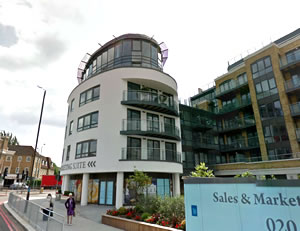 Ray Upcraft of Russell Collins Estate Agents said, "The Brentford property market is positively booming. The record price for a property in Brentford has just reached the £2m mark which proves this point. Perhaps the gap between Brentford and its neighbours is narrowing and TW8 is about to be the poor cousin no longer!"
In recent months three flats in the Kew Bridge Road development have sold for over a million pounds and, at the time of writing, 5 of the top ten most expensive properties in Brentford are from this site.
This has led to the average price of a home in Brentford rising above £400,000 for the first time ever.
According to the Land Registry, the average price of a home in Brentford during the first three months of 2013 was £431,296.
Top Twenty Brentford Property Sales
The April data from Land Registry's House Price Index shows that London remains the best performing property market in England and Wales. The average price of a home in the capital rose by 6.2% over the year to £375,795.
For the country as a whole prices only rose by 0.7% which takes the average property value in England and Wales to £161,458.
The most up-to-date figures available show that during February 2013, the number of completed house sales in England and Wales decreased by 3 per cent to 43,573 compared with 44,829 in February 2012.The number of properties sold in England and Wales for over £1 million in February 2013 increased by 3 per cent to 488 from 475 in February 2012. London has seen a fall in repossessions which were down by 29% to 117 in February 2013 compared with the same month in 2012.
The latest reported sales are given in the table below.
Where do I live? Brentford TW8 postcodes are divided into three sectors, TW8 0xx, TW8 8xx and TW8 9xx. Broadly speaking, TW8 0xx covers areas east of Boston Manor Road, TW8 8xx goes west of Boston Manor Road, whilst TW8 9xx covers the areas to the north of the A4.
Brentford Property Prices - (February 2013 - April 2013)

Deed date
Address
Price (£)
19/04/2013
9 Church Walk, TW8 8DB

360,000

16/04/2013
Apartment 141, 8 Kew Bridge Road, TW8 0FG

2,000,000

12/04/2013
1 Almond Grove, TW8 8NP

285,000

12/04/2013
Flat 145, Block B Paragon Site, Boston Park Road, TW8 9RP

96,000

09/04/2013
Apartment 15, 1 Town Meadow, TW8 0BQ

360,000

05/04/2013
Apartment 126, 8 Kew Bridge Road, TW8 0FG

559,950

05/04/2013
26 Church Walk, TW8 8DB

365,000

05/04/2013
370 Lionel Road North, TW8 9QX

355,000

28/03/2013
129 Whitestile Road, TW8 9NP

370,000

28/03/2013
16 Albany Road, TW8 0NF

323,000

28/03/2013
32 Robin Grove, TW8 8DG

217,500

25/03/2013
Apartment 135, 8 Kew Bridge Road, TW8 0FG

1,000,000

22/03/2013
Apartment 74, 8 Kew Bridge Road, TW8 0FD

899,950

22/03/2013
14 Whitestile Road, TW8 9NJ

450,000

22/03/2013
Apartment 33, 2 Point Wharf Lane, TW8 0EA

250,000

22/03/2013
Flat 45, Moorings House, Tallow Road, TW8 8EL

250,000

21/03/2013
80 Brook Road South, TW8 0PH

445,000

18/03/2013
Apartment 127, 8 Kew Bridge Road, TW8 0FG

1,280,000

15/03/2013
Flat 9, Braunston House, Tallow Road, TW8 8ET

550,000

15/03/2013
34 Augustus Close, TW8 8QE

435,000

15/03/2013
68 Manor Vale, Boston Manor Road, TW8 9JN

242,500

14/03/2013
37 Lionel Road North, TW8 9QZ

480,000

14/03/2013
Upper Flat, 51 Mafeking Avenue, TW8 0NL

205,000

08/03/2013
1 Romulus Court, 1 Justin Close, TW8 8QR

309,950

08/03/2013
Flat 47, Rivers House, Aitman Drive, Kew Bridge Road, TW8 0ES

299,450

04/03/2013
44 Eastbourne Road, TW8 9PF

223,000

01/03/2013
Apartment 115, 8 Kew Bridge Road, TW8 0FG

550,000

01/03/2013
Apartment 90, 8 Kew Bridge Road, TW8 0FD

500,000

01/03/2013
Apartment 18, 1 Point Wharf Lane, TW8 0DD

327,000

28/02/2013
Apartment 116, 8 Kew Bridge Road, TW8 0FG

500,000

28/02/2013
10 Birch Close, TW8 8NS

278,500

26/02/2013
23 Lionel Road North, TW8 9QZ

465,000

22/02/2013
37 Clitherow Road, TW8 9JT

553,000

18/02/2013
31 Clayponds Avenue, TW8 9QQ

295,000

15/02/2013
108a Whitestile Road, TW8 9NL

210,000

14/02/2013
20, Julius Court, Justin Close, TW8 8QH

394,999

13/02/2013
Apartment 88, 8 Kew Bridge Road, TW8 0FD

500,000

13/02/2013
Flat 4, St Mirren Court, 4 Enfield Road, TW8 9NX

210,500

12/02/2013
Apartment 83, 8 Kew Bridge Road, TW8 0FD

569,950

12/02/2013
67 Windmill Road, TW8 0QQ

250,000

11/02/2013
Upper Flat, 4 Mafeking Avenue, TW8 0NH

227,000

08/02/2013
29 Clayton Crescent, TW8 9PT

349,950

07/02/2013
Apartment 79, 8 Kew Bridge Road, TW8 0FD

715,000

07/02/2013
Apartment 80, 8 Kew Bridge Road, TW8 0FD

569,950

07/02/2013
Apartment 60, 8 Kew Bridge Road, TW8 0FD

500,000

07/02/2013
Apartment 89, 8 Kew Bridge Road, TW8 0FD

500,000

07/02/2013
Apartment 63, 8 Kew Bridge Road, TW8 0FD

480,000

07/02/2013
Apartment 42, Ferry Quays, 5 Ferry Lane, TW8 0AT

278,125

06/02/2013
Apartment 62, 8 Kew Bridge Road, TW8 0FD

500,000

06/02/2013
26 Hazel Close, TW8 8NG

250,000

05/02/2013
18 Layton Road, TW8 0QJ

310,500

04/02/2013
28 Challis Road, TW8 9PR

405,500

01/02/2013
Apartment 51, 8 Kew Bridge Road, TW8 0FD

675,000
June 21, 2013