Flat in Kew Bridge development sets new all-time high for the area
A new high price has been paid for a home in the Brentford area with the purchase of a newly built flat for £2,400,000.
The apartment in the 8 Kew Bridge Road development. Already units in this scheme had sold for the top five prices seen in the TW8 post code area. The latest sale exceeded the previous record by just over £7,000.
Alastair Hilton of Winkworth Estate Agents said, "The St George development at Kew Bridge really has been the standard bearer for Brentford developments. The execution of the build and the wonderful location by the river, has enticed many people to make this their home. If you are looking for quality and a riverside location, this is hard to beat."
The record may not stand for long as Winkworth estate agents are offering a rare opportunity to acquire a house in The Butts.
Homes in the conservation area don't often come to the market and this Queen Anne, detached house of over 5500 square feet is exceptional even by the standards of the area.
The offer price of £3,450,000 would make it Brentford's highest value residential property.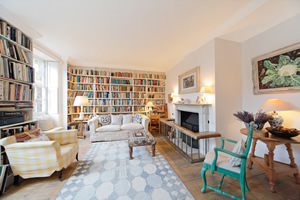 Top Twenty Most Expensive Homes in Brentford

Deed date
Address
Price (£)
06/12/2013
Apartment 142, 8 Kew Bridge Road, TW8 0FG

2,400,000

31/05/2013
Apartment 138, 8 Kew Bridge Road, TW8 0FG

2,392,612

01/08/2013
Apartment 143, 8 Kew Bridge Road, TW8 0FG

2,365,000

16/04/2013
Apartment 141, 8 Kew Bridge Road, TW8 0FG

2,000,000

26/04/2013
Apartment 137, 8 Kew Bridge Road, TW8 0FG

1,920,000

31/05/2013
Apartment 140, 8 Kew Bridge Road, TW8 0FG

1,411,408

14/09/2007
7 The Butts, TW8 8BJ

1,299,635

18/03/2013
Apartment 127, 8 Kew Bridge Road, TW8 0FG

1,280,000

01/08/2012
5 The Butts, TW8 8BJ

1,250,000

04/06/2010
Flat 56, Regatta Point, 38 Kew Bridge Road, TW8 0EB

1,200,000

26/04/2013
Apartment 103, 8 Kew Bridge Road, TW8 0FG

1,120,000

10/04/2013
Apartment 125, 8 Kew Bridge Road, TW8 0FG

1,110,000

21/04/2013
19 Market Place, Brentford TW8 8EG

1,000,000

25/03/2013
Apartment 135, 8 Kew Bridge Road, TW8 0FG

1,000,000

08/06/2012
Apartment 120, 8 Kew Bridge Road, TW8 0FG

999,950

24/01/2013
Apartment 54, 8 Kew Bridge Road, TW8 0FD

992,500

09/04/2010
26 The Butts, TW8 8BL

985,000

17/07/2007
Flat 54, Rivers House, Aitman Drive, Kew Bridge Road, TW8 0ES

985,000

20/07/2012
13 The Butts, TW8 8BJ

950,000

09/04/2013
Apartment 27, 8 Kew Bridge Road, TW8 0FD

950,000

20/04/2012
Apartment 69, 8 Kew Bridge Road, TW8 0FD

950,000

28/02/2007
46 Holland Gardens, TW8 0BE

950,000
March 14, 2014