Rye by the Water will be a daytime café and restaurant in the evening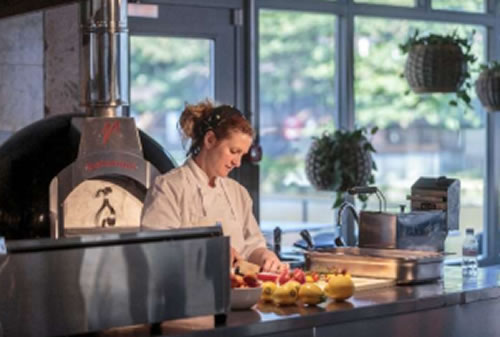 A new organic bakery and grill has opened on Catherine Wheel Road overlooking the River Brent.
Rye by the Water will be run by Ben Rand, the former head chef at The Dairy in Clapham along with Janine Edwards, previously the head pastry chef at Little Bread Pedlar. It is backed by Irish chef and restaurateur, Robin Gill and business partner, Dan Joines.
There is a restaurant inside and a decking area where customers can eat and drink by the river. The bakery selection will include croissants, pain au chocolat and seasonal fruit Danish pastries, all of which are laminated and baked in-house. The bread will be baked with stoneground flour with heritage grains from Gilchesters Organic used. It will open early each day with fresh bread to take away and coffee, teas and pastries available from the counter. Lunchtimes from the counter will offer a daily-changing selection of sandwiches and seasonal salads. At the weekends a brunch menu will be available.
In the evening the grill will be fired up to serve a concise menu of snacks, pastas, steaks, sides and pizzas. Expect 'Cornish mackerel crudo with English peas and Amalfi lemon', 'Tagliatelle, Cornish crab, tomato and basil' and 'Dexter beef chop with green salad and Agria potato gratin'. Neapolitan-style sourdough pizzas from the woodfire oven will include 'Fennel sausage, Calabrian chili, tropea onion' and 'Courgette, ricotta, oregano, black pepper'.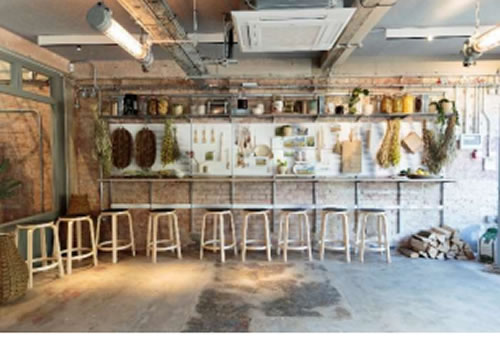 Ben and Janine say, 'We are looking forward to bringing a new and exciting restaurant to Brentford and connecting with the local community through our love of baking, amazing produce and simple, yet considered cooking.'
Rye by the Water forms part of the Ballymore development in Brentford on Catherine Wheel Road and has opened its doors for soft launch until the 6 July. During this period there will be a 10% reduction for sit-in customers. The establishment will fully open on 8 July - Monday – Wednesday 09.00-18.00/Thursday – Saturday 09.00 – 21.30/ Sunday 10.00- 18.00.
June 28, 2019