Paul Slattery calls for Cllr Curran's resignation over wheelie bin protest arrest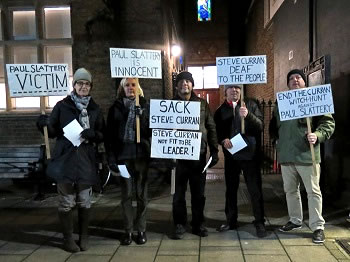 On Wednesday evening a small group of Brentford residents mounted a picket and gave out leaflets outside the Isleworth and Brentford Labour Party branch meeting calling for the resignation of Council Leader Steve Curran for his alleged victimisation of Paul Slattery.
Mr Slattery was one of the last to arrive outside Cllr Curran's house where a group of people gathered wheelie bins outside Cllr Curran's house with wheelie bins in Brentford against what they say was their imposition without proper consultation.
Cllr Curran submitted a complaint to the police about Mr Slattery, but not about the rest of the twenty people who gathered outside his house on the 19 November. The two men have known each other for over thirty years.
The police still have Mr Slattery's phone and after three months he has still not been charged with any offence and he is on indefinite bail.
Mr Slattery said that he has had support from all over the borough while Cllr Curran is an increasingly isolated council leader. He added, "How you can do this to a neighbour is beyond belief. These are the actions of a vindictive man, a man who is ready to abuse his power and his close relationship with the local police."
Cllr Curran said after the incident, "I had no option but to call the police as I was being harassed and felt threatened".
He has declined to make further comment saying this was now a police matter.
February 14, 2016