Subject to banning order after confrontation outside Council leader's home
One of the participants in a protest about wheelie bins outside the leader of Hounslow Council's home in Brentford last week was arrested this weekend.
Paul Slattery, was present when there was an angry confrontation between protestors and Cllr Steve Curran on 19 November. Wheelie bins had been piled up outside the councillor's house by people who were objecting to their imposition across the borough.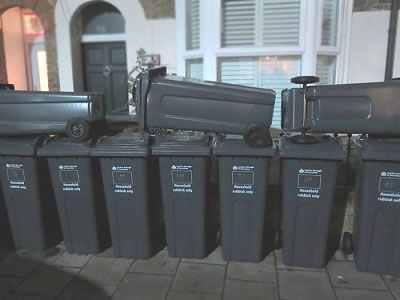 Wheelie bins piled outside Cllr Curran's house
Two uniformed female police officers knocked on Mr Slattery's door about 1pm this Saturday (21 November), and asked him to confirm his identity and said, "We are arresting you because of an incident in Braemar Road on Thursday evening".
The police handcuffed him and took him to Hounslow Police Station, confiscating his computers and mobile phone. He was photographed, had his DNA and fingerprints taken and was left in a cell for over 4 hours.
Mr Slattery was arrested and questioned under Section 42A(1) of Criminal Justice and Police Act 2001, for the "offence of harassment etc. of a person in his home"
The duty solicitor came and finally an interview was conducted about 7pm. At this point the police said that a complaint had been made by Cllr Curran and read out extracts of his statement asking for Mr Slattery's views. Although his computers were returned to him when he left the police station his mobile phone is still being held.
Mr Slattery was released on bail without charge and is to return to the police station in January. His bail states as a condition that he is not to enter Braemar Road to prevent further offence. He feel that this is particularly harsh as he's been going to watch Brentford FC for 53 seasons and now cannot access the Ealing Road end where his season ticket seat is situated.
Mr Slattery has lived in Brentford for 35 years and has always been involved in his local community, being on Friends of Watermans group as well as Brentford Community Council and other committees and helped protest against the closure of Brentford Baths. He is known for being a community activist and for speaking out at public meetings.
His comments after the day's events were, "It [wheelie bin protest] was a good-natured gathering with a lot of humour and Steve Curran's reaction was quite unprofessional. A politician who is leader of the council should be able to deal with a situation on his doorstep with a little bit of humour, especially as most of the demonstrators were middle aged. I myself have known Steve for over 30 years. One would not believe that a small protest merits being arrested, handcuffed and thrown into a police cell for 5 hours. It's an absolutely outrageous reaction".
A resident who was at the protest, who would prefer to remain anonymous, described the event, "We all went along Lateward Road collecting wheelie bins and people, and were very light hearted when we got to Steve's house. Ages ranged from a child to a few over 70. We were not looking to cause any disturbance on the street. We just piled the bins up outside Steve's house on the pavement. This was even before Paul arrived. Steve drove past, wound down his window and said he wanted the wheelie bins moved. Then he parked down the road and walked back. Questions were put to him politely which he refused to answer, spending most of his time on the phone. We moved the wheelie bins and when Steve entered his house left and took them to St Paul's Rec. He's not willing to answer questions at public forums so how else are people supposed to get answers. He could have defused the situation and he mishandled the situation totally".
After the incident but before Mr Slattery's arrest Cllr Steve Curran said, "I firmly believe in the right to protest and I know people feel very strongly, both for and against the introduction of wheelie bins, but there are appropriate ways to make your feelings known.
"As Leader of Hounslow Council, I take full responsibility for the decisions we take, but it's simply not appropriate for a crowd of people to heckle and barrack me at night, outside the home which I share with my family. Nor is it right to prevent access in and out of my house with wheelie bins. Protesting outside my house is also not fair to my neighbours.
"I had no option but to call the police as I was being harassed and felt threatened".
Cllr Curran declined to make further comment saying this was now a police matter.
Evening Standard Residents took a protest to a council leader's doorstep when they blockaded his home with wheelie bins. 23 November 2015. The article was printed in the West End Final that day.
London Live Story got a 30 second mention on Monday's lunchtime news.
Daily Mail Residents pile bins outside councillor's house over wheelie bin move 23 November 2015.
Let's Recycle Hounslow council leader faces wheeled bin protest 25 November 2015
November 27, 2015