Paragon student blocks to undergo urgent eight million pound refit
Six tower blocks in Brentford providing mainly student housing are to have their cladding removed after it was found to be potentially dangerous.
According to Inside Housing, the Notting Hill Housing Association is to spend £8m removing the cladding on the buildings which opened in 2006.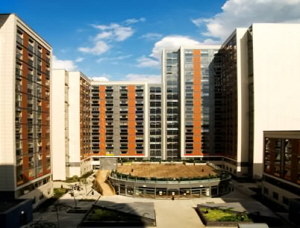 The Paragon complex has single study rooms for 893 units as well as 221 self-contained one and two-bedroom flats, some of which are social housing. The towers are as high as seventeen storeys and, at the time of construction, this was the tallest modular tower in the world with the units constructed in a factory in Newark before being assembled onsite.
Notting Hill say that the cladding is being removed despite not being an aluminium composite of the type used at Grenfell Tower. In the details they have given to prospective contractors the housing association says that the original cladding was incorrectly installed with missing fire breaks or cavity barriers behind the classing system. It is believed that a similar design flaw allowed flames to travel up the ill-fated Grenfell Tower building. Notting Hill describe the need to establish fire safety compliance as urgent.
According to Inside Housing the modules that make up the building were designed by architects Carey Jones, and made by offsite builder Caledonian Modular as part of a project led by Berkeley, while the cladding system was installed by Deepdale Solutions. Inside Housing say that the contractor responsible for the vertical cladding has had their name redacted from documents which they have seen. Both Deepdale and Caledonian have denied that they are responsible for the design issues with the building.
A Berkeley spokesperson said that the design was approved by the building control authority.
Paragon accommodation is split amongst four blocks on one secure site that is staffed on a 24 hour basis with a secure entrance and that can only be accessed by swipe card. The rooms are all en-suite, situated in cluster flats of eight rooms to a flat with shared use of a kitchen/dining area.
Throughout the Academic Year they provide accommodation to students from different organisations including Thames Valley University and Imperial College and to a number of different language schools.

December 15, 2017