Previous design rejected due to 'serious harm' it would have caused to the area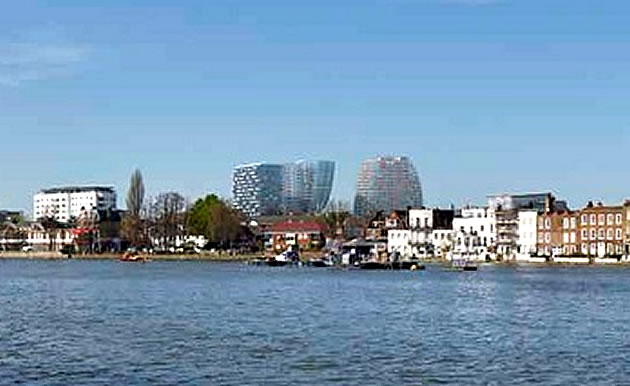 View over Strand on the Green showing rejected buildings in the background
New plans are to be submitted to Hounslow Council for the Capital Interchange Way site in Brentford.
A previous plan with a controversial design was rejected by council planners last year who concluded that the proposed buildings would cause 'serious harm' to the area including spoiling the view from heritage assets such as Kew Gardens.
Now listed developer Redrow has announced that it is teaming up with social housing firm Catalyst to present totally different plans in a £180 million project for the site near the planned Brentford football stadium.
The previous proposal had not contained any social housing as the developer had argued that the provision of a bus garage negated the need to provide any. With an eye-catching design and buildings of up to 22 storeys in height, the earlier plan had attracted a very high level of opposition. The proposal by Facilitas Technical Engineering Services Limited was turned down with the decision notice stating, "The proposed buildings, by virtue of their location, scale, and design, would cause serious harm to the significance of a range of designated heritage assets including listed buildings and conservation areas, as they would appear as overly tall and bulky elements that are discordant additions to the existing high quality townscapes, adversely affecting their setting."
Many local residents felt the plan would have blighted views over Strand on the Green in Chiswick and it was alleged that the impact on the view from the Katyn Memorial in Gunnersbury Cemetery was 'disrespectful'.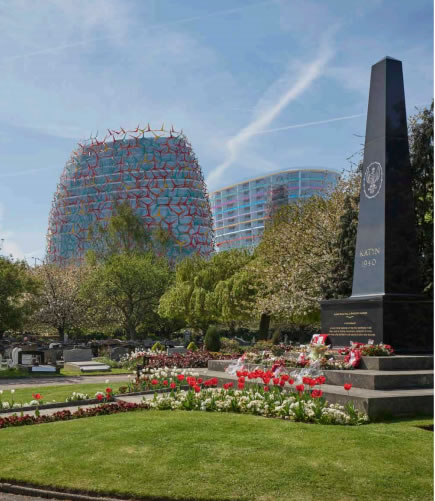 Visualisation of view from Katyn Memorial from rejected proposal
Details of the new proposals are not yet available but it will include 450 1-3 bedroom flats (a lower amount than the previous plan) as well as offices and shops. An unspecified number of the flats would be dedicated for affordable housing, shared ownership and rent.
The 50:50 Redrow and Catalyst partnership comes at a difficult time for the local housing market with currently few new build flats being sold in the area. However, it these tough market conditions Redrow have managed to sell a significant number of units at their development at 500 Chiswick High Road.
Keith Parrett, regional boss at Redrow London, said, "Brentford is currently receiving significant inward investment with the construction of the new football stadium recently commencing."
Rod Cahill, Chief Executive of Catalyst, said, "By working in partnership with Redrow homes, we can deliver even more affordable homes for Hounslow and for London."

August 17, 2018