20 metre high pole would be sited next to the allotments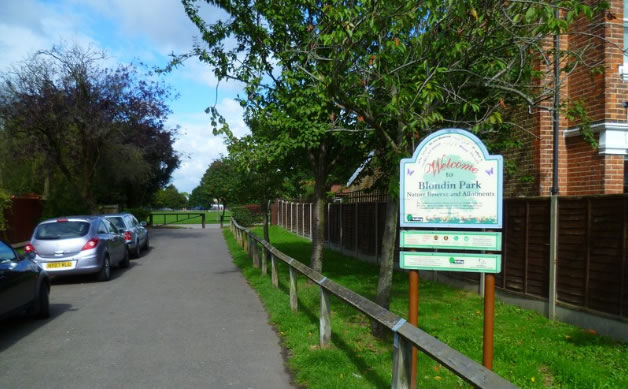 Blondin Park. Picture: Shazz
A new application is being made to Ealing Council to place a mast in Blondin Park, this time it is sited next to the allotments.
Earlier this year in May council planners blocked a proposal to put a 20 metre high telecommunications mast in the park off Boston Manor Road after nearly 200 local people objected. The applicant was requesting that the structure be deemed a permitted development and therefore would not be required to get prior approval from the council. Council planners decided that prior approval was required and that they would refuse to give it.
Now a new application made jointly on behalf of EE and Three has been made to construct a monopole that would also be 20 metres high along with ancillary equipment. This would require the removal of three trees and surrounding vegetation.
The mast would be considerably higher than the trees that would remain nearby. The park itself is designated Public Open Space.
The consultation on the proposal ends on 28 December and comments can be made by clicking here.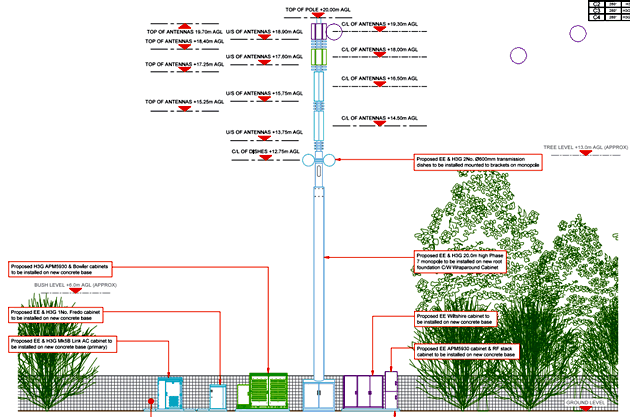 Drawing of planned mast from applicant's submission
The previous proposal was not rejected due to health concerns despite many of the comments referring to this issue. The government have advised planning authorities that the scientific evidence does not give any indication of any extra risk from this technology and therefore this would not be considered as valid grounds for an objection.
Some local residents' groups believe that Ealing Council's arrangements for the publicity of planning applications during the lockdown has been inadequate. The public notices for developments like this one are published in a newspaper which does not circulate in the area which is a requirement of the relevant legislation. The Council have refused to consider the publication of notices in sites like EalingToday.co.uk even though the current guidance from the government is to increase the use of digital media to make residents aware of developments that may affect them. Ealing Council say that if they were to publish notices digitally they would do so on their own site.

November 19, 2020