A planning application has just been lodged which seeks to replace the body of the church with a 5-storey building containing 19 flats. However the Church Tower will be retained. The tower is is recognized in the Thames Landscape Strategy as a significant local landmark.
Safe from harm is the (listed) small Sarah Trimmer building. Built in 1786, the building marks the first location of what was to become an important educational movement. Sarah Trimmer (1741 — 1810) was the daughter of John Joshua Kirby, a friend of Gainsborough, Reynolds, and Hogarth, teacher of perspective to George III, and Clerk of the Works at Kew Palace. She married James Trimmer of Brentford, became the mother of six daughters, whom she educated entirely, and of six sons whom she helped to educate.
In 1786 she opened Sunday schools at Brentford, and had an interview with the Queen, who wished to open similar schools at Windsor. The remainder of her life was devoted to promoting education. A household name at the end of the eighteenth century, she published a series of biblical, moral and practical primers. She was deeply suspicious of imaginative literature, like fairy tales, and provided her own corrective in works such as Fabulous Histories; or A History of the Robins (1786), which was a popular success.
As well as the building next to St George's, her name endures as one of the buildings on the nearby Haverfield Estate.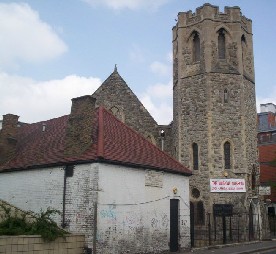 Sarah Trimmer building, foreground, and the Musical Museum. Only the tower will remain under the present proposals.
Revised Kew Bridge Plans To Be Discussed