Brentford 3 Darlington 1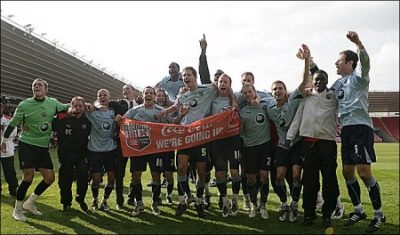 Brentford clinched the League Two championship and promotion to League One with a 3-1 win over 10-man Darlington on Saturday.
The hosts got off to a bad start when Alan White was sent off after a minute and a half but it took Brentford until the 35th minute to make the breakthrough thanks to Alan Bennett.
A brace from Billy Clarke all but sealed the result and ensured that Pawel Abbott's goal on the hour mark was nothing more than a consolation.
More than 1,300 supporters made the 500 mile round trip to see Brentford promoted, with much pre-match celebrations going on. More than 250 of those fans then returned to the club's Griffin Park ground, in Braemar Road, to welcome their heroes home and partied long into the night to celebrate their success.
Bees' boss Andy Scott, his assistant Terry Bullivant and captain Alan Bennett were among those greeted by the joyous fans as the team coach arrived home just after midnight.
Supporters lined Braemar Road into the early hours of Sunday morning to celebrate with the players and management.
The Bees will be presented with the trophy at their final game of the season, against Luton town at Griffin Park on Saturday, May 2.
Photos of the day's events, from start to finish, can be seen on Mark Fuller's excellent website.
April 28, 2009