Fans anger as Brentford cup tickets sell out
Allocation sold out in three hours as loyal supporters miss out
There was anger amongst fans of Brentford FC unable to buy tickets for their team's fifth round FA Cup clash at Southampton this Saturday.
The Bees took an allocation of 3,200 tickets for the match against Premier League opponents Southampton. However the club turned down the chance to increase their allocation to 4,700 because they would have had to be responsible for paying for the allocation in full.
Queues formed outside Griffin Park at 7.30 this, Monday, morning. There was surprise that no priority was given to season ticket holders or supporters who had made the trip to Hartlepool on Saturday to see the 1-0 win which put the Bees into the last 16 of the Cup. Some reports said that individuals were buying 20 tickets at a time.
Tickets were also being sold via the web, although heavy demand led to technical problems which saw the service withdrawn after an hour.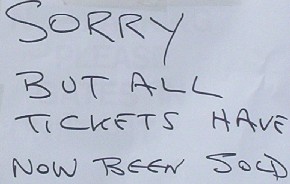 How supporters arriving at Griffin Park found out the news

By midday, the gates to Griffin Park were closed, with a club official explaining that only those still queing inside the ground would be able to get a ticket.

We spoke to John McGlashan, one of the directors nominated by Supporters' Trustt Bees United, who told us the he doubted that any more tickets could be made available.

Supporters arriving in their lunch breaks to buy tickets were angry. "It's a typical Brentford cock-up" one angry fan told BrentfordTW8.com. "I've been a season ticket for years, go away to support the team, and this is the thanks we get".

The situation worsened when supporters became aware that a ticket agency were selling tickets for Brentford supporters for £82, over three times the face value. When BrentfordTW8.com spoke to the agency we were told that "ten tickets should not be a problem - but you'd better buy them quickly".


Become a member of BrentfordTW8.com - it's free

Comment on this story on the