Threat of deportation of man with Down's Syndrome recedes
A local man with Down's Syndrome has been allowed to stay in the UK for another 30 months to continue his fight against deportation.
It is believed that this extension will mean that he has been in the UK long enough to qualify for permanent residency. This would represent success for the campaign to allow him to stay which organised a petition with over 80,000 signatures.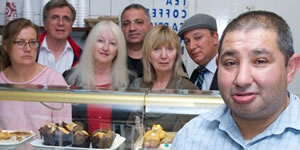 Wadih with supporters at his family's business
Wadih Chourey, 44, moved with his family to the UK in 1997 after being persecuted by gangs in his native Beirut who were attempting to get him involved in crime.
He currently lives in Twickenham but is regularly seen at Joseph's Patisserie opposite Isleworth Public Hall which is run by his brothers Joseph and Camil. Wadih helps out at the shop and is a popular figure with customers
His parents have died recently leaving him the care of his brother but the Home Office had claimed that there was nothing exceptional about his case and he should be sent back to the Lebanon. Wadih is unable to cook and needs help washing and dressing himself.
The Home Office has refused to comment on the case.
September 25, 2015