Home Office want to send Wadih Chourey back to the Lebanon
A campaign is under way to stop the deportation of a local man with Down's Syndrome
Wadih Chourey, 44, moved with his family to the UK in 1997 after being persecuted by gangs in his native Beirut who were attempting to get him involved in crime.
His parents have died recently leaving him the care of his brother but the Home Office are saying there is nothing exceptional about his case and he should be sent back to the Lebanon. Wadih is unable to cook and needs help washing and dressing himself.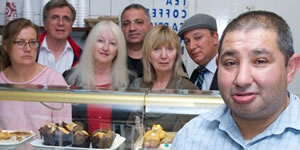 Wadih with supporters at his family's business
He currently lives in Twickenham but is regularly seen at Joseph's Patisserie opposite Isleworth Public Hall which is run by his brothers Joseph and Camil. Wadih helps out at the shop and is a popular figure with customers
A campaign by the Old Isleworth Four Roads Residents' Association has received the support of Vince Cable MP and a petition has been started to lobby against his deportation.
The Home Office have declined to comment as the deportation is under appeal.
September 5, 2014