Police set up crime scene focusing on bin storage area by renovated Church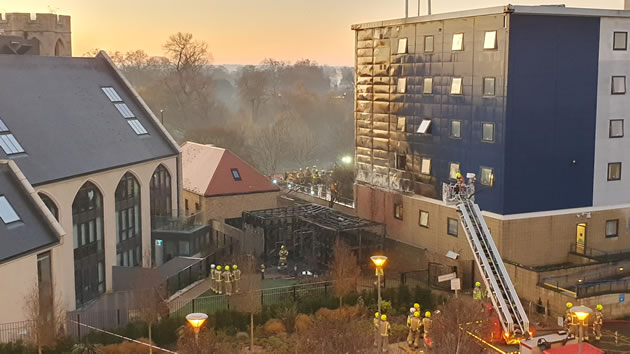 Fire fighters around the bin store at the back of the hotel
The Metropolitan police have confirmed to BrentfordTW8.com that they are now treating the fire that took place at the Travelodge Hotel as suspicious.
160 staff and guests including small children had to be evacuated from the hotel in the early hours of Wednesday 4 December.
The fire brigade was called at 2.52am and had the blaze under control by 6.53am with around 100 firefighters attending.
The police have set up a crime scene at a bin storage area at the back of the hotel where the fire appears to have first taken hold. This is outside the perimeter of the hotel. The fire then seems to have travelled up the outside of the five storey building. London Fire Brigade have confirmed that the cladding of the hotel was not a contributory factor in the way that the fire spread.
The bin storage area at the back of the hotel belongs to the recently renovated Church building.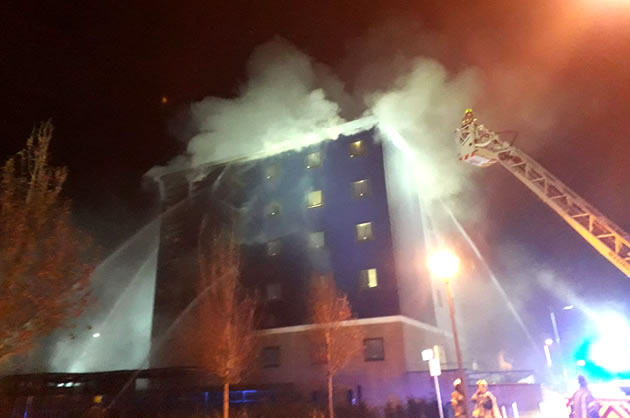 Picture: London Fire Brigade
London Fire Brigade Assistant Commissioner Graham Ellis who was at the scene said, "When firefighters arrived they were faced with a rapidly developing fire. A single storey bin room on the ground floor of a neighbouring building was alight and the fire had already spread to an adjacent hotel of five floors. Fire crews offensive firefighting helped stop the fire spreading further and protected large parts of the building. The Brigade's Control took seventeen 999 calls to the visible blaze."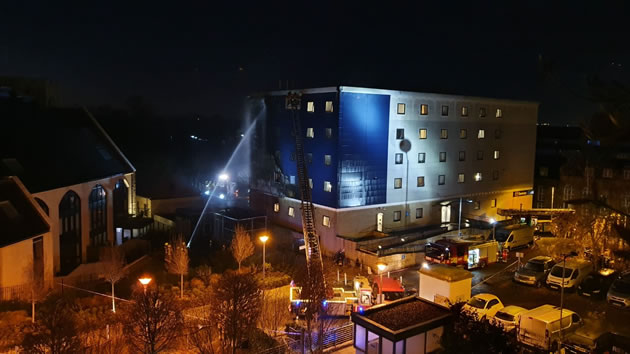 A Travelodge spokesperson said, " We continue to work with the emergency services at the site and would like to thank them and local agencies for their rapid response.
"The hotel was a mixed construction building and we are reviewing all the building details as part of the investigation into the incident. As this is an ongoing investigation and we are trying to support the London Fire Brigade in any way that we can, we don't want to speculate further."
December 6, 2019