Fire fighters battle to save building on Boston Manor Rd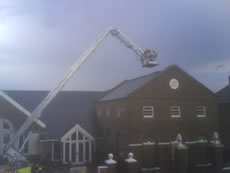 Brentford Free Church was a victim of the violent electrical storms that took place on Monday when lightning hit its roof and set it on fire.
The incident occurred in the afternoon at the height of the storm. Boston Manor Road and Half Acre were cordoned off while fire fighters battled the blaze.
Nobody was hurt by the lightening strike or the blaze. There were people inside the Church when it was hit but they were unaware it was on fire until a passerby came in to inform them.
The tiles and timber of the roof seem to be damaged beyond repair and the bill for reconstruction is likely to be substantial.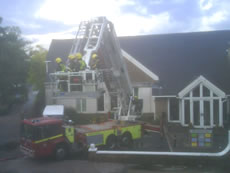 Pictures courtesy of Paul Glenton
July 10, 2007