Two workers died after Martin Gutaj refused to pay specialist company to lift sofa
A company director from Brentford who caused the deaths of two men because he was unwilling to pay for a hoist to lift a sofa has been jailed.
Martin Gutaj, 44, of Ferry Lane, was sentenced at the Old Bailey this Friday, 7 July to 14 month imprisonment for each death - to run concurrently - and was barred from being a company director for the next four years.
He was convicted after he failed to undertake an adequate risk assessment and offer training to the two construction workers who fell to their deaths lifting the sofa at height. He and his company Martinisation London Limited had previously been found guilty on Friday, 19 May.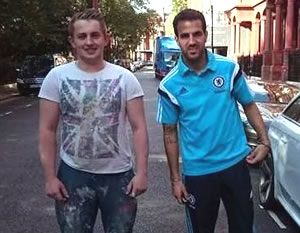 Tomasz Procko with Chelsea footballer Cesc Fabregas
The company was fined £1.2million for each death and £650,000 for breaches of Health and Safety Regulations.
On 21 November 2014, Tomasz Procko, 22 and Kyrol Szymanski, 29, both Polish were working at a construction site in Cadogan Square run by Gutaj's company. During the course of the day the men were asked to perform a lifting operation at height without supervision and the requisite training.
The major project was behind schedule and over budget and Gutaj was unwilling to pay a specialist transport company the £848 it had quoted for lifting the 11 foot, 18 stone sofa which was too big to go up the stairs of the building.
The two workmen who were asked to do the job were not provided with a plan, method statement or risk assessment prior to the task being undertaken, thereby exposing them to the risk of serious harm. The expectation was for the workmen to use a rope to haul a sofa over a balustrade and into a first floor apartment. Both workmen fell after railings on the balcony gave way whilst the furniture was being manoeuvred into premises.
Tomasz Procko was pronounced dead at the scene. Karol Szymanski was taken to a central London hospital in a critical condition where he later died.


July 7, 2017