Injured policeman's equipment went missing after he was surrounded by crowd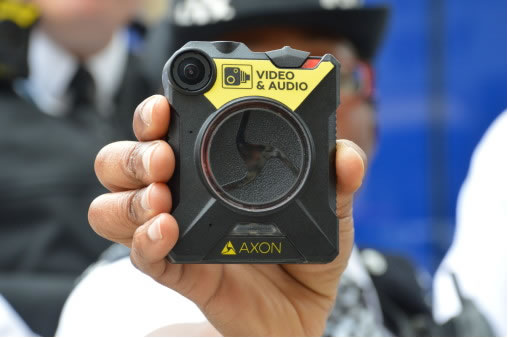 The body worn camera equipment worn by the police officer seriously assaulted in Brentford on Saturday night (10 June) has been found to be missing.
The police are appealing for anyone who has found it to return the item. The kit has only recently been issued to officers in Hounslow Borough. It is possible that it may have been taken from the officer at the time of the assault in which he sustained a broken nose and a fractured jaw.
Detective Chief Inspector Helen Flanagan of Hounslow CID who leads the investigation said, "The body worn video camera is a new piece of kit that officers on our borough are wearing. They are encrypted devices the footage cannot be accessed by anyone other than our officers. However, we are obviously keen for the camera to be returned to us and I would ask anyone who has seen it, or has it in their possession, to drop it off at their local police station."
Police are still seeking to trace a man they want to speak to in connection with the attack. At around 9.35pm the police were called to reports of an assault in the vicinity of Boston Manor Road. Two officers drove to the scene and a member of the public pointed out a man they believed was involved in the fight who was running off down the street.
The officers pursued the man and told him to stop but he continued to move away. Both officers got out of their car and attempted to detain the man. As they did this, a crowd of people gathered and began to act in a hostile manner towards the officers. A man who was in the group then kicked one of the officers in the face, breaking his nose and fracturing his jaw. The other officer deployed CS spray to disperse the crowd and support was called to the scene.
The injured officer, a police constable aged 32, was taken to the West Middlesex Hospital for treatment - he has since been discharged.
The 21-year-old man the officers initially detained was arrested for obstructing police and remains in custody at a west London police station.
There were a large number of people in the area at the time of the incident including people who had attended the Junction 2 Festival in Boston Manor Park.
Anyone with information is asked to call Hounslow CID on 020 8247 6224 or 6299 or call Crimestoppers anonymously on 0800 555 111.
You can also tweet information to the Met @MetCC.

June 12, 2017