John Muttit had been employed as a delivery driver for a local pharmacy
A 78-year-old Brentford man has been sentenced to 18 month's imprisonment for a series of sexual assaults on vulnerable elderly women while he was working as a delivery driver for a local pharmacy.
John Muttitt, of Walnut Tree Road, Brentford was jailed this Friday (26 May) for two counts of sexual assault after being found guilty at Isleworth Crown Court. He was given 15 months' imprisonment in relation to an assault on a woman in 2013 and 18 months' imprisonment in relation to an assault on a woman in 2015. His sentences will run concurrently. He was found not guilty of an alleged attack on a third victim and the jury failed to reach a verdict in relation to a second offence involving one of the victims of an attack he was convicted of.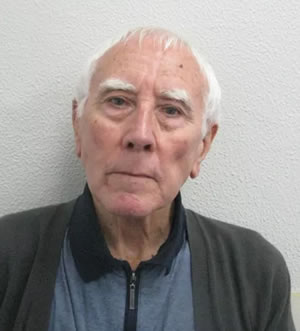 The jury heard that Muttitt was a self-employed delivery driver for a local pharmacy and would deliver medication to patients at their homes and care homes in the Hounslow and Isleworth areas. He was instructed not to enter properties and not to provide any medical advice or comment on any medical queries.
The first incident was reported to the police in July 2013 by the daughter of a woman who raised concerns about an incident of sexual touching. The victim, who is partially blind and deaf and has mobility issues, had an arrangement with Muttitt to deliver her medication and he was provided with a key code to access the house. On this occasion Muttitt entered the victim's house and inappropriately touched her whilst pretending to carry out a medical examination, despite having no experience or the relevant qualifications. Officers carried out enquiries in relation to this allegation with the pharmacy Muttitt worked for and he was consequently arrested and interviewed.
He admitted to touching the victim when checking her heart but denied allegations of sexual touching and he was subsequently released owing to a lack of evidence. Two further incidents with almost identical circumstances were reported to police in August 2015.
Still working for the pharmacy, Muttitt had been delivering medicine to the second victim for a number of months and would often enter her house and talk for up to 30 minutes. On two occasions the victim, who suffers from Cerebral Palsy, Parkinson's and has a speech impediment and mobility issues, welcomed Muttitt into her home and he inappropriately touched her. The victim reported the incidents after confiding in her carer and officers arrested Muttitt again for sexual touching. When officers attended the address to take Muttitt into custody, it was established that another victim had disclosed an allegation of sexual touching to the warden against him.
Muttitt's third victim who suffers from dementia said she was grabbed and kissed while she stood at her door. He was charged with four counts of sexual touching on 16 July 2016.
Officers carried out enquiries with other women Muttitt delivered medication to however no further allegations have been made to police.
PC Ben Lawrence-Smith, from Hounslow Community Safety Unit said: "Muttitt took advantage of the fact that these victims were elderly, vulnerable, and often living alone. Due to having mobility issues the victims used a pharmacy delivery service as a way of obtaining their medication without difficulty and Muttitt abused his position of trust. There may very well be other victims who have yet to come forward. We know that Muttitt was delivering medication to patients in the Hounslow area between 2010 and 2015 and would urge anyone who has yet to come forward to do so."
Anyone with any information is asked to contact police in Hounslow on 101 or via Twitter @MetCC. Alternatively you can contact Crimestoppers on 0800 555 111.
May 27, 2017