Arrests made after anti-social behaviour at Green Dragon Lane flats
Three arrests have been made and a large quantity of drugs has been seized after police officers and Neighbourhood Wardens responded to reports of anti-social behaviour at Boulton House on Green Dragon Lane.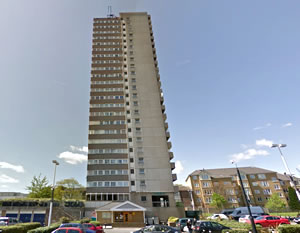 Boulton House. Picture: Google Street View
Brentford Local Neighbourhood Team Police and Hounslow Neighbourhood Wardens received information about problems being caused day and night by the same group of people. A joint operation started between the two teams and information was collated to identify individuals involved.

On Thursday 3 November at 1.15pm one male from this group was identified by Hounslow Neighbourhood Wardens while watching live CCTV. This person was stopped by Police shortly after. A large quantity drugs and cash were seized and he was arrested and taken to a Police Custody Suite.

On Wednesday 9 November at 7.20pm hours two other males from this group were arrested at Boulton House as they suspected of dealing drugs and taken to a Police Custody Suite. A large quantity of money and drugs were seized from these two people.

If you have any information regarding any suspicious criminal activities please contact Police on 101 ( non-emergency), Crimestoppers anonymously on 0800 555 111 or contact your local Police team - Brentford.snt@met.police.uk / 0208 247 6415. In an emergency always contact Police on 999.
To be informed about the activities on the Local Neighbourhood Police Team you can sign up online to Neighbourhood Link a community messaging system.


November 21, 2016