Brexit supporter stole hat from Eddie Izzard during pro-EU march
A Brentford man has been fined £185 for stealing comedian Eddie Izzard's hat during a pro-EU demonstration earlier this month.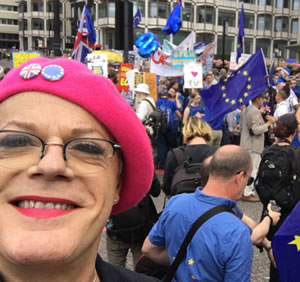 The pink beret on the day of the march. Picture: @eddieizzard
Dawid Czerwonko of Clitherow Road, Brentford, was filmed on 3 September snatching the beret from the comedian's head who then set off in pursuit of him in high heels along Whitehall near Downing Street.
The 26-year-old chef was part of a pro-Brexit counter-demonstration which was confronted by Mr Izzard when they blocked the pro-EU march towards the Cenotaph.
Mr Czerwonko was caught and then restrained by a group of policemen. The beret was retained by police as evidence in the case but it is understood that it has now been returned to its rightful owner.
Earlier Eddie Izzard had addressed a rally in Parliament Square alongside Peter Tatchell.

September 20, 2016