Local Company Octink Proud of Its Continuing Community Support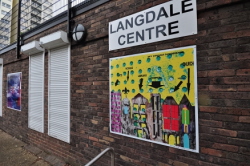 The latest 'Windows on' project has once again allowed Octink, a display specialist, to continue its work with budding young designers, this time with the talented children from Ivy Bridge as part of our community investment programme, and in conjunction with Hounslow Homes. The 'Windows on' projects allow Octink to engage with a collection of young adults across the Borough to add an artistic twist to their local environment, and often improve the outlook and appearance of either rundown buildings or community neighbourhoods. Feedback to date suggests that the addition of artwork to any area is always welcome, and in addition serves to provide areas with a sense of youthful soul, ambition, and respect.
Will Tyler, CEO of Octink, said in Octink's news section "Everyone at Octink is hugely proud of the work provided to date, and particularly impressed with the understanding of computer skills and design programs that the local students have demonstrated. The work is of such a high quality and are fast becoming locally renowned works of art! As we look forward the hope is that one day we will be able to hone these skills in our own workplace on permanent basis as we continue to address the issue of employability locally. This is very encouraging for our future development of our business, and hopefully that of the students too.
"Once presented and critiqued the designs were printed direct to substrate via our Inca Spyder large format printers. All materials used can be recycled in the future."
Previous 'Windows On' projects included Brentford, Isleworth and Gunnersbury.
June 10, 2010