An entertaining video celebrating 7th Brompton World Championship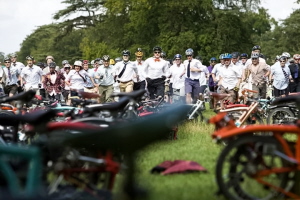 Earlier this month saw the 7th Brompton World Championship hotly contested in the grounds of Blenheim Palace. Time trial specialist Michael Hutchinson confirmed his credentials with a second successive win in a course record time, and he was followed over the finish line by more than 650 other Brompton riders. It was a hot but thoroughly enjoyable day, and for those of you who couldn't join in, do watch the video .
Upcoming National Championships

Looking forward now to next year's World Championship, and the long road to BWC 2013 began this weekend with the first of four National Championships taking place around Europe. It all kicked off in Switzerland, where riders from across the country gathered on Sunday to race around the Interlaken airfield, surrounded by the Swiss Alps and attended by some professional acrobats who after partaking in the race put on a show of impressive balance skills.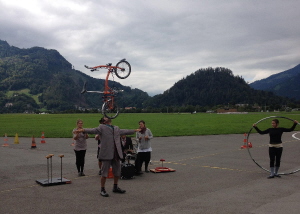 In just over one week, on the 16th September, the Belgian city of Antwerp will host the first ever BeNeLux Championship. Bringing together three strong cycling nations and with some five miles of city roads being closed for the occasion, the stage is set for urban racing at its best. The Portuguese Championship will take place on Saturday the 22nd, following a 12km race around the beautiful and historical Gardens of Belém in Lisbon, before this busy month of racing is rounded off with the Czech Championship, which will place on Saturday the 29th September.

As always, the two fastest competitors from each race (one male and one female) will win flights to the UK for participation in the 2013 Brompton World Championship and the opportunity to race against the fastest Brompton riders in the world. Registration is still open for the BeNeLux Championship, the Portuguese Championship and will open soon for the Czech Championship.
September 14, 2012