Multimedia extravaganza reappears on April 8th
A unique evening of quirky & entertaining music: folk,
pop, experimental/impro, chill-out electronica; exploring & recycling, acoustic & digital sounds...plus some videos & films too, with a recycling theme.

...Think: - reduce, RE-USE, RECYCLE!
LIVE (in the theatre 8pm - 11pm):

*JANEK SCHAEFER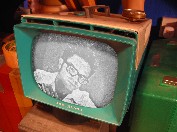 An Internationally renown sound artist who recycles old vinyl
sounds and architectural field recordings, sometimes employing his own self-built multi-armed turntable.

* TUNNG
Folk & pop meets electronics with this superb group whose
album last year echoed 'the Beta Band's eclectic but tuneful approach'
according to The Sunday Times. 'Beguiling' said The Independent.
* THE BOHMAN BROTHERS
Combining musique concrete, sound poetry and free improvisation,
between states of the absurd; in the traditions of the Bonzo Dog
Doo-Dah Band, with kitchen-sink realism.

* AM/PM
Minimal & classically-bent electronics, swiss born
AM/PM's last album consisted of recycles of the end notes of
various album tracks...
FILMS/Videos (in the theatre also 6pm - 8pm):
* ST ETIENNE'S film 'Finisterre'
* BECK'S Videos by DFUSE from his album 'Guero'
* IRIS GARRELFS short Dumplinks film, remixed
DJs in bar:
* JEM FINER
* HERMEET CHADHA (BBC Radio 1 One World)
* BEN ESHMADE (Classic FM's Chiller Cabinet)
* IRIS GARRELFS (Sprawl/Resonance FM)
Plus
Stalls & beer garden, a veritable fete including:.
* Brentford Recycling Action Group
* Hounslow Borough Council Recycling Team
* Ealing Friends of the Earth
* The Green Trading Company

Theatre - films (6pm-8pm), live acts (8pm-11pm)
tickets: £8 (£6 concs)
(Bar area: DJs & stalls, admission free)
March 14, 2006