Over 1,000 spaces to be provided for football and rugby fans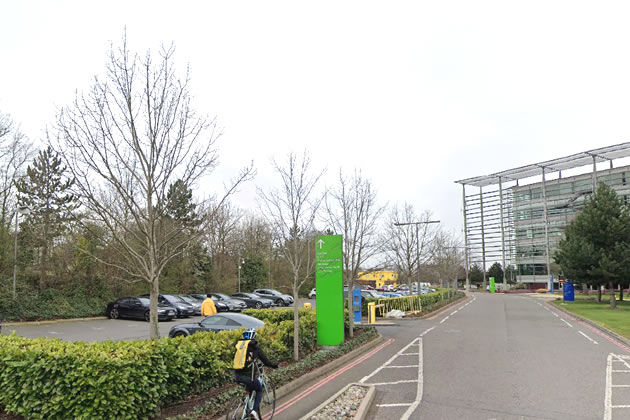 One of the designated parking areas in Chiswick Business Park. Picture: Google Streetview
One thousand match day parking spaces mainly in the Chiswick area are to be provided to football fans when crowds are allowed to return to Brentford's new stadium.
The club says that it has entered into a partnership with match day parking specialist EST to provide the spaces as part of a commitment to Hounslow Council.
This would mean that parking would be made available when either Brentford FC or London Irish Rugby Club was playing at the new ground.
Most of the spaces would be in the Chiswick Park office development with 750 vehicles to be provided for each match day. Chiswick Park – Enjoy Work declined to comment on the arrangement.
A spokesperson for the club said, "Brentford FC has a commitment with London Borough of Hounslow to attempt to secure around 1,000 car parking spaces for match days and we've been working closely with them on this. We're keen to work with schools as well as businesses as this could provide a valuable source of revenue to schools to boost their funds and help pay for key projects that may not be possible otherwise. We're working with EST as leading providers in this area (across the country). They have a track record of delivering valuable and positive relationships with schools and businesses for other sports clubs (and events)."
The club says that it intends to communicate with local residents about the arrangements but has put this process on hold .
Brentford FC says it has already started discussion with Hounslow Council about any planning permissions that would be necessary.
One of the schools participating in the scheme is Lionel Road Primary School with 150 parking places on offer. The other school in the borough listed as a primary car park for the event Strand on the Green School in Chiswick. A St Mary's School is listed as providing 150 spaces as a secondary car park but it is not clear whether this is the primary school in Isleworth or Chiswick. We are seeking to clarify this point.
Richard Griffiths, chairman of the Strand on the Green Association (SoGA) said, "SoGA is shocked to discover by accident that Brentford FC has done a deal that will allow 150 London Irish rugby fans to park in Strand School grounds in Thames Road on match days. Thames Road residents have neither been consulted nor advised of this development a requirement which Brentford FC always maintained would not be needed. SoGA is checking what if any planning permission is needed."
One off parking at the spaces will cost £20 at the schools and £15 at Chiswick Business Park. A seasonal permit for all the primary car parks which include Chiswick Business Park, Strand on the Green School and Lionel Road School costs £200.
You can also buy seasonal permits at reserve car parks further away from the ground at West Thames College (300 spaces), Isleworth Town School (250 spaces) and St. Mary's School (150 spaces). These cost £160.
London Irish are subsidising the cost of seasonal parking permits for these spaces for their season ticket holders. They have begun the reservation process for fans wishing to take up a permit.
Parking (both match day and seasonal) will be available to purchase directly through EST.
Parking will be managed using an automatic number plate recognition system, but fans will be able to add multiple number plates to their account online if they plan to use a different car or lend somebody else their spot.
We have asked Hounslow Council to comment but they have not responded yet.
To have your say on any of Hounslow's trial Streetspace schemes click on this link or email the transport team on traffic@hounslow.gov.uk.

October 2, 2020