Black and white image shows Brentford footballers at Griffin Park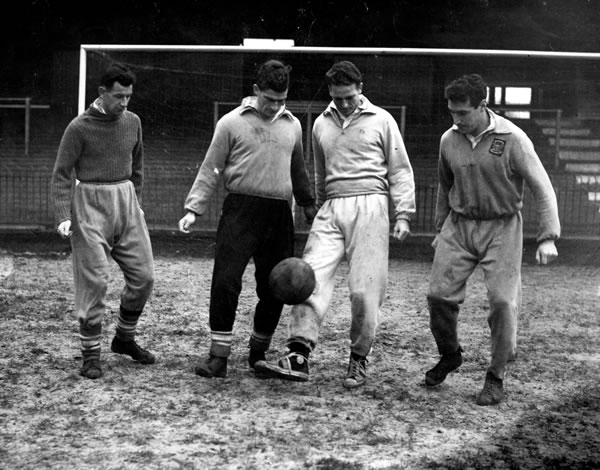 The recent appeal by local historians to identify a group of footballers in a photo deposited at Chiswick Library has had some success.
John Hirdle on the Brentford FC Loyal Facebook group has identified two of the group featured as Brentford legends Ken Coote and George Francis.
The photograph, with 'Daily Mirror Photograph' stamped on the reverse and otherwise unidentified, was recently left in Chiswick Library by someone who is not known to have spoken to a member of the staff about it.
Staff believe it was intended as a donation to the Chiswick and Brentford Local Collection, which is kept at Chiswick Library.
According to Mr Hirdle it features Griffin Park in the mid to late fifties looking towards the Brook Road End.
On the far left is Ken Coote who was with Brentford for 14 years and holds their record for number of appearances having played 559 times. He also captained the club and in 2013, Coote was second in a Football League 125th Anniversary poll of Brentford's best ever captains.
After retiring he bought a house in the Brentford area and managed a betting shop in Hounslow. He died aged 75 in 2003.
Mr Hirdle is pretty sure that the man third from the left in the photo is George Francis who was born in Acton in 1934. The centre forward had two spells with Brentford and is a member of their Hall of Fame. He formed a strike partnership at the club with Jim Towers which was known as 'The Terrible Twins'. He started playing with Acton's Odeon Cinema team as a school boy and regularly came up against Jim Towers who played for the rival Gaumont Cinema team. George Francis passed away in 2014.
The other two men in the photo remain unidentified. If you can help name them the person to contact is James Marshall the Local Studies Librarian at Hounslow and Chiswick Libraries. He can be emailed at localstudies-hct@carillionservices.co.uk.
March 18, 2016