Manager unwilling to work within 'Moneyball' style player recruitment regime
Brentford F.C. have announced today that they are to part company with manager Mark Warburton at the end of the season. The move comes with the club in seventh place in the Championship well placed to make a challenge for promotion this season. When Warburton took over they were in the division below.
He is leaving along with and asssitant manager David Weir after discussions with club owner Matthew Benham yesterday. There had been speculation for some time about the future of the pair. Technical director Frank McParland has been placed on 'gardening leave'. The club appear to be switching to a 'Moneyball' type model of player recruitment in which player statistics are used to determine the make up of the squad.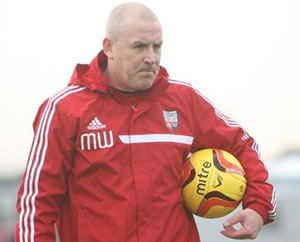 Mark Warburton
According to a club statement, owner Matthew Benham made the move 'to ensure the long-term prosperity of the Club'.
As part of a remodelling of the Club's football management, a Head Coach will be appointed to work alongside a new Sporting Director. There will also be a new recruitment structure using a mixture of traditional scouting and other tools including mathematical modelling. Matthew Benham's gambling business is believed to use similar models to determine better value bets.
The club wish to implement these changes in time for the next transfer window that opens this summer and to try and ensure a smooth transition to the new recruitment model. They want the new structure to be a long-term way of working which is independent of whoever is in the Head Coach role.

Matthew Benham said: "I am a passionate Brentford fan and every decision I take is intended to be in the best long term interests of the Club.Some of the decisions taken to date have been easy and some, like this one, have been extremely hard."'
Cliff Crown, Chairman of Brentford FC said: "We would have loved for Mark to stay, working within the new structure, but he feels that this is not right for him. We understand that completely and had to weigh up the benefits of the new structure against losing a fantastically successful manager before taking this decision."
Mark Warburton said: "I will be forever grateful to Matthew for giving me the opportunity to be Manager of this fantastic Football Club and for what he has done for the Club since I have been here. It has been an absolute honour and a privilege to do the job and I have had the pleasure of working with a fantastic group of players and staff and have enjoyed the backing of a magnificent set of supporters."
"While I am disappointed that we have been unable to reconcile some key philosophical differences, I'm relieved we now have clarity.
"In my remaining time at the Club we shall move heaven and earth to get the promotion that the players, fans and Matthew deserve and going forward, I wish the club every success in its ongoing adventure.
"I have enormous respect for Matthew and his investment in the Club and he has the absolute right to run the club in the manner he deems most appropriate and beneficial."
According to reports in the national press sources at Brentford have suggested that Warburton's willingness to talk to Norwich about their managerial vacancy as well as McParland's desire to show loyalty to the current squad rather than spend on new players, led to their departure. Benham, it is claimed, wanted to build a squad which was capable of operating in the premier league, but met resistance from McParland.
There are also reports that the club has held discussions with highly rated Spanish coach Paco Jemez who is currently managing Rayo Vallecano in La Liga. His contract with the club expires in June the same month that Warburton's 12 month rolling contract with Brentford is up. Jemez has previously denied he had ambitions to coach in England saying that his English wasn't good enough.
February 17, 2015