Last Heathrow consultation in Isleworth next week with public meeting to follow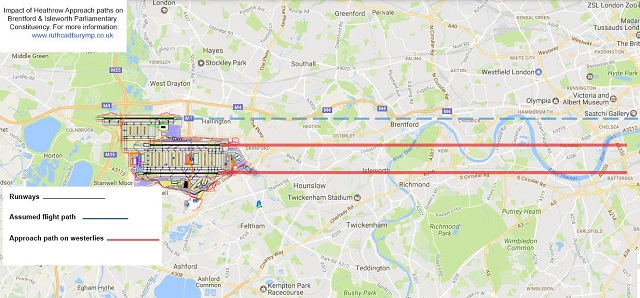 Assumed flight path (dotted) and westerly approach (red)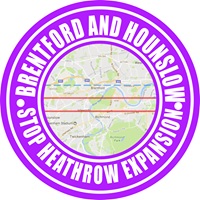 How much more noise will I experience in my home or garden?
Where will the new approach paths be within 6 miles of the runway? (it's not impossible to work out that the approach path will be over the north side of Chiswick, then central Brentford, Osterley and north Heston)
Will the respite periods for the approach to the current runways remain 8 hours or be reduced? If so, by how much?
How many more cars vans & lorries will enter/leave the airport? How many will be carrying passengers, or staff, or freight? How many more for servicing flights?
What increases in road and rail capacity are planned? And who will pay? the taxpayer, or airline passengers?
What will be the additional safety risk of a plane catastrophe with a third runway? - and how would the ground-based consequences compare with the consequences for the much less heavily populated Gatwick area should the worst happen?
How will noise and pollution issues be measured, addressed and mitigated?
Will there be independent scrutiny of how the airport operates, in terms of noise, traffic insulation schemes and air pollution?
What climate change emissions would there be and how would they affect the UK's carbon emissions targets?
What will happen if Heathrow doesn't keep to any of its commitments?
Brentford and Hounslow Stop Heathrow Expansion (BASHR3) urge residents to go to the last of the Heathrow consultation events next Wednesday and ask lots of questions. Katie Polglase attended the Putney event and found dissatisfaction amongst attendees.
BASHR3 are organising a public meeting the following week on Tuesdasy 21st March from 7.30pm at Brentford Free Church, Boston Manor Road. Hear more about the Government's consultation on Runway 3, and its implications for Brentford and Hounslow. Ruth Cadbury MP, Dave Waller of BASHR3 and John Stewart of HACAN will be on the panel.
See BASHR3 online: website, Facebook and on Twitter at @bashrunway3
Residents can get copies of the Government documents by calling 0800 6894968. There are 3 ways to respond to the consultation document:
Respond online or Complete a response form and either email to
RunwayConsultation@dft.gsi.gov.uk or write to Freepost RUNWAY CONSULTATION. The consultation closes at 11:45pm on 25 May 2017.
Download the poster/leaflet from BASHR3.
March 13, 2017