Heathrow Expansion - have your say!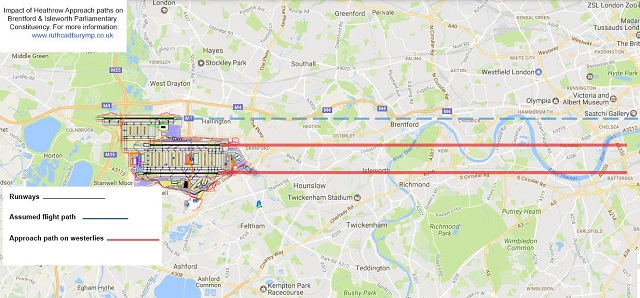 Assumed flight path (dotted) and westerly approach (red)

The Department for Transport is holding its last consultation meeting on Heathrow Expansion on March 15th at Isleworth Public Hall, South Street, 11am-8pm.
This ends a 16-week consultation asking for residents' views on the draft Airports National Policy Statement. The consultation closes at 11:45pm on 25 May 2017.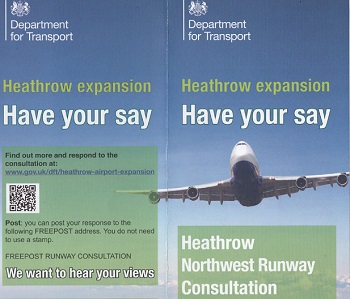 Residents should have received the above information leaflet (pdf) from DfT; if you haven't please let us know on the forum or via email. Other council leaders have cricised the contents and distribution (see Evening Standard).
On 25 October 2016 the Government announced that its preferred scheme for meeting the need for additional airport capacity in the south-east of England is a new north-west runway at Heathrow Airport.
MP Ruth Cadbury said, "Although the Government's consultation process about the third runway is deeply flawed, I do encourage people to attend their exhibition and come to the community meeting. People need to know how much noisier their area will be if the third runway does go ahead, how much more traffic there will be and what Heathrow is offering in terms of noise insulation and other forms of relief. The consultation forms are opaque and seem to be deliberately drafted to be difficult to answer unless you think a third runway is the best thing ever. Yet local residents have a voice and should use it!".
Brentford & Hounslow Stop Heathrow Expansion organiser and local resident Dave Waller said; "Most people in central Brentford, Syon Lane north and north Heston aren't aware that they will be under the approach path to the new runway". Dave added "We are hoping for a good turnout at the public meeting, and if residents would like to help the campaign, please email us; bashrunway3@gmail.com".
Residents can get copies of the Government documents by calling 0800 6894968. There are 3 ways to respond to the consultation document:
Respond online or Complete a response form and either email to
RunwayConsultation@dft.gsi.gov.uk or write to Freepost RUNWAY CONSULTATION
Ruth Cadbury MP suggests the following list of questions that need to be answered:
• Where will the new flight paths go? (it's not impossible to work out that the approach path will be over the north side of Chiswick, then Brentford and Osterley, but so why won't the DfT say that?)
• Who will pay for the new roads and railways needed for the 3rd runway which could cost the taxpayer £5 - £15 billion?
• What the health impacts will be due to additional noise and pollution and how will these be addressed?
• What the additional safety risk is of a plane catastrophe is with a third runway? - and what the ground-based impact would be compared with the much less heavily populated Gatwick area?
• Will there be independent scrutiny of how the airport operates, in terms of noise, insulation schemes and air pollution?

• What the climate change emissions would be and how that would affect the UK's carbon emissions targets.
• How can people currently overflown know how many fewer hours of respite we will get in future. And will they really be predictable?
Visit BASHR3 (Brentford and Hounslow Stop Heathrow Expansion) online: website, Facebook and on Twitter at @bashrunway3
March 9, 2017