Legal Agreement set to be signed shortly
Representatives from Ballymore and the council met on site on Thursday 29 October to witness the start of demolition work to an area which will become the first phase of the new development. A third of all of the scheme's new homes will be located there as well as more than 7,000 sq m of commercial space, earmarked for office, retail and leisure uses.
Planning permission was granted last November for the first phase of this long outstanding project. Residents, and business people in particular are frustrated at the lack of progress on the high street.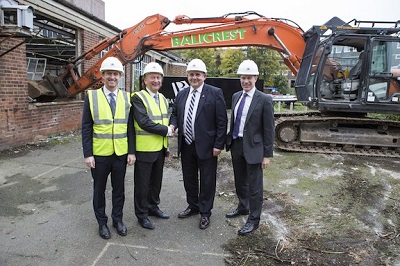 John Mulryan, Ballymore Managing Director, Sean Mulryan, Chairman & Group Chief Executive, Councillor Steve Curran, Leader of Hounslow Council, Brendon Walsh, Director of Regeneration, Hounslow Council
Ballymore's Managing Director John Mulryan said: "This development will breathe new life into this area of west London and our progress is a demonstration of our commitment to Brentford, local residents, workers and the wider community."
Councillor Steve Curran, Hounslow Council Leader, said: "This development will not only bring much-needed new homes to Brentford, but it will also bolster our reputation as a west London boom town, bringing exciting new retail opportunities and vibrant commercial spaces. I'm delighted that our joint efforts to transform the area have started."
Phase one of the scheme, which is located on land south of Brentford High Street and the River Brent, will also see Ballymore restore many of the town's best-loved heritage buildings, including St Lawrence's Church and create new moorings at Workhouse Dock.
Mr Mulryan added: "Our intention here is to fuse old and new. We are passionate about creating an exciting, contemporary district, with fantastic places in which people can live, work and play, while also retaining as many much-loved landmarks as we can.
"It's exciting to see demolition under way as we turn our vision into a reality for the people of Brentford."
November 18, 2015