Scheme waved through despite including less than 10% affordable housing
It came as no great surprise to anyone that the Planning Committee last night voted in favour of the Ballymore applications, although the debate was long with a decision not taken until half past eleven.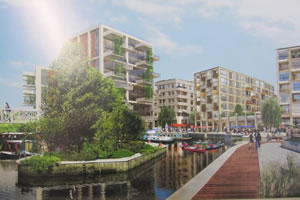 Artist's impression of the first phase of the scheme
Nigh on 200 people gathered at Hounslow Civic Centre to listen to the discussions, where both applicants and objectors had twenty minutes each to make their case, followed by questions from the members. The leader of the Council, Cllr Steve Curran (Syon) along with Brendon Walsh, Director of Regeneration were part of the audience.
The areas raised of greatest concern to the councillors were affordable housing. Local needs suggest 40% of all developments should be affordable housing (defined as up to 80% of market rates, affordable need not mean affordable to many people), this large development has just 9% affordable housing, which was strongly justified by Ballymore and the council's own independent viability assessor on the basis that the scheme wasn't viable otherwise. The viability assessment is of course commercially sensitive and therefore not public.
There is a complicated arrangement made no less clear by professsionals unable to give a straightforward answer explaining the finance behind this. Ballymore claimed to be "giving" a block to the council so they could put all their affordable housing in one basket to be controlled by the council, with a top up of any financial shortfall that should be at least £7 million and will have a higher limit. In reality the council is exchanging Country Parade for an affordable block and a cash transaction. The application suggest that all affordable housing will be studio or 1 bed size but apparently this is not confirmed.
A small detail perhaps but there is still 5% of the land that Ballymore do not control yet. CPOs may be necessary if negotiations meet with no success.
Lack of a clear retail strategy, highlighted by Suzie Betlem, of Brentford Chamber of Commerce and Andrew Dakers, Chair of Brentford High Street Steering Group also raised concerns. Joe Swindells of Ballymore made the concessionary offer on the night of a 20% discount on rents for 20% of the commercial floorspace, for five years to local businesses. After a question from the floor he clarified that by local he meant Hounslow, not Brentford.
All businesses in Brentford town centre, whether high street retailers or commercial enterprises down back roads will suffer financially during construction if not having to move premises altogether. It was agreed that a retail strategy (undefined) would be part of the condition of the application and this would include a transition strategy.
After questions had been asked of applicants, objectors and council officers the councillors started a debate that turned out to be very brief. Councillor Mel Collins (Brentford) moved for a deferral so that the scheme could be improved but there were no seconders. Several councillors then discussed how their concerns had been addressed over the course of the evening, emphasising the need to get this development right for the future generations. Councillor Katherine Dunne (Syon) spoke of her serious concerns, stating that she was disappointed with the small quantity of affordable housing and the need for a retail strategy but was reassured by the evening. She aso stated that she like the design of Block K. Councillors John Todd and Sheila O'Reilly questioned the development, with John providing the most probing questions throughout the evening.
Councillor Shantanu Rajawat moved that the question [of approval] was put to the committee and it was agreed, with Cllr Collins abstaining and Cllrs Todd and O'Reilly voting against. The remaining majority voted in favour hence the application was approved.
There is much to be done yet, as only three blocks have been approved in details, with the rest of the development in outline only. Conditions such as the retail strategy are a long list of items that will now have to be agreed in detail. And there is a lot of detail yet to be agreed and scrutinised that will shape the future of Brentford's town centre and help determine its success.
Please note the blow by blow account is available on twitter and John Dale's video of the edited highlights will be published shortly.
August 5, 2016