Councillors reject "too dense, poorly designed" site
Plans to build 450 apartments, two hotels, offices and shops on the Alfa Lavel site on the A4 have been rejected by local councillors.
The scheme, on the site of the old Brentford Nylons building, was criticised on a number of aspects. These included the density of the site, with many more homes per hectare than recommended levels and the design, which was criticised as being "like something out of the 1960s".
There was acknowledgement that the site does need developing - it has been empty for around a decade - and the principle of a public path through the middle was commended.
However, it was considered that there were too many faults with the plans as they stood at the current time, and the developers have been instructed to return with another plan.
How it won't look - the view from York Road of the rejected development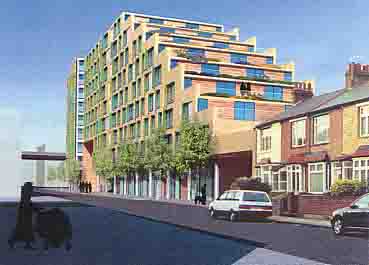 8 June 2006