Armed police called to scene on Ealing Road following high speed chase

The crashed Jaguar car on Ealing Road. Published with kind permission
A Jaguar car was written off after crashing on Ealing Road Brentford around midnight this Sunday (18 October).
Police received a report of shots being fired on Layton Road shortly beforehand.
Eye-witness report that immediately before the shooting a high speed chase took place involving two or three cars one of which is believed to have been a Mercedes.
One report suggests that the Jaguar was already damaged before it collided with the railway bridge on Ealing Road and had been chased around the roundabout on the A4 before doubling back towards Brentford.
When the police arrived the occupants of both vehicles had already left the scene. Armed officers were called to the incident and the NPAS helicopter flew over the scene to locate suspects.
Cllr Partick Barr, who represents Chiswick Homefields ward on Hounslow Council witnessed the immediate aftermath of the collision on Ealing Road. He said, "Car still on and smoking, air bags deployed, occupants ran off. Stay clear of car. Be aware of casualties that could be suffering from shock in local vicinity."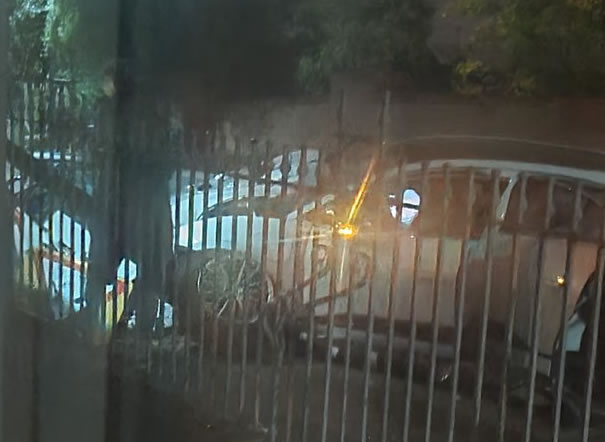 The car in the immediate aftermath. Published with kind permission
No arrests have been made and no injuries were reported. Reports on social media that a person was shot dead in the incident are believed to be false.
Anyone with information is asked to contact police on 101 or tweet @MetCC and quote CAD11/OCT20; alternatively call the independent charity Crimestoppers on 0800 555 111.

October 19, 2020