'Israeli Apartheid: A Beginner's Guide'

Ben White the renowned freelance journalist, writer & Guardian commentator specialising in Palestine /Israel will talk about his acclaimed & thought-provoking book
'Israeli Apartheid: A Beginner's Guide'.
Ben White explains the origins of Zionist colonisation and the crucial events of 1948. He then proceeds to examine the current structure of Israeli apartheid. The book is rooted in the author's extensive on-the-ground experience in the region.
"A very strong and clear voice that does not shun from exposing in full, and in a most accessible manner, the essence of Zionism and Israeli policies in Palestine." Prof. Ilan Pappe, Israeli historian Exeter University
Copies of the book will be available for signing on the night.
New Documentary Inshallah about life in Gaza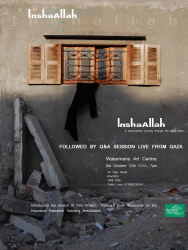 Hounslow Ramallah Twinning Association are showing a new 90' documentary Inshallah about life in Gaza followed by a 30' live link-up with the makers in Gaza at the Watermans Arts Centre on Saturday 30th at 7.30pm see http://vimeo.com/14329136 for a preview


October 27, 2010